For the Love of Meatballs
This staple is anything but simple, and it's enjoying a resurgence in popularity.
By Julie Fustanio Kling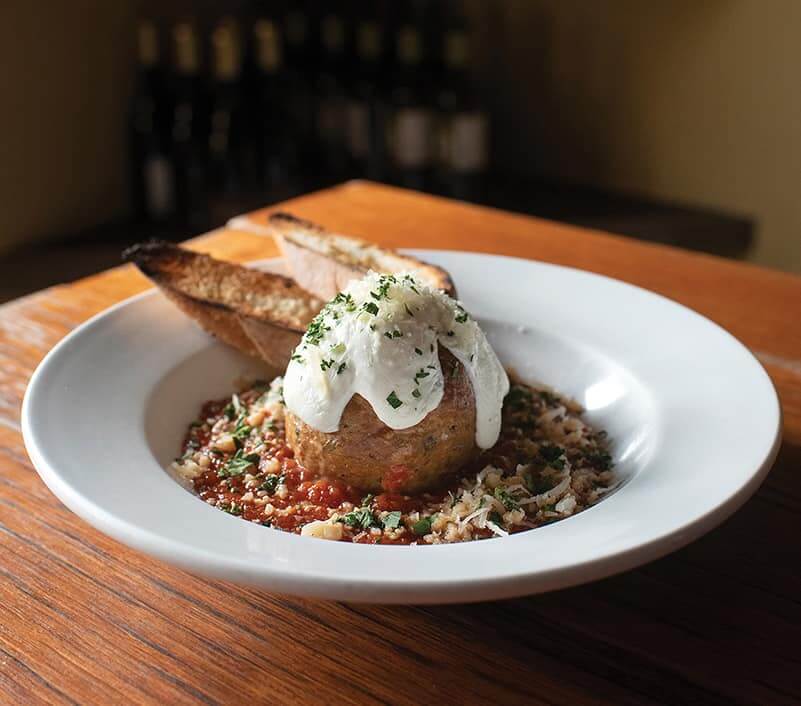 Beef and pork meatball with fresh, house-made mozzarella and marinara sauce at Bin22. Photo by Bradly J. Boner
ITALIANS SPEAK WITH their hands and cook with their hearts. They'll invite you into their kitchens to watch them cook and feed you until you feel like a stuffed pig. Italians might be the most generous cooks around, until it comes to their recipes. My family sneaks in an ingredient (or two) when you turn your back so you can never make it as tasty as theirs. As a Fustanio and a Cavalcanti I know this trick well. My uncle adds a pinch of sugar and my stepfather a pat of butter to finish off the family ragout, another word for marinara sauce. I learned to improvise in the kitchen thanks to them.
Meatballs, like marinara sauce, are sacred in my house. There are a million different ways to make them and when they have the right meat blend, spices, and juiciness, each bite unlocks a journey down memory lane for me to a family dinner, where there were sometimes arguments about whose meatballs were best.
It is no wonder meatballs are gaining traction in cities—New York has a chain of restaurants called The Meatball Shop with six locations. Jackson may be a little behind big-city trends, but our valley still has a lot of love here for the homestyle meatball.
"Every time I go back and visit my family, the first meal is meatballs and sausage on ziti. That is always the tradition. They can become very fancy and fantastic but I grew up as simple as it can get."

– Nick Bochicchio, Owner Creekside Deli
"My family isn't as crazy with the whole meatball thing," says Paul Cucchiarelli, the newest meatball chef in town at Hand Fire Pizza. Still, he says, "I don't know if I can share the full recipe." Once we get talking, he pretty much dishes the ingredients of his "meat bawl" pizza, a name that stuck after he and his business partner made fun of the way he pronounced meatball with his New England accent.
"It starts with my recipe of sauce. Organic tomatoes out of California, crushed tomatoes, onions, garlic, Italian herbs, and sugar at the end to balance out the acidity," he says. "The meatballs have spicy red pepper flakes, sweet honey herb ricotta, and, of course mozzarella cheese and asiago. It is a nice balanced pizza, salty, sweet, and spicy. All the beef is 100% Hereford Ranch."
Cucchiarelli, who often grabs a bag of beef on his way to work, lives on the Hereford Ranch and rents space for Hand Fire Pizza in the old Teton Theater, an iconic Town Square art deco building owned by the Gills, the same family who owns and runs the Hereford Ranch. He formerly had restaurants in New York City and Maui and when he met his wife, who lived in Salt Lake City, they moved to Jackson Hole together. With a little more probing he tells me he uses organic breadcrumbs and fennel, one of my favorite spices in my stepfather's recipe.
On Tuesdays, Cucchiarelli donates a portion of every pizza to a nonprofit in the community. Also on Tuesdays, Creekside Market & Deli's sandwich special is a meatball sub.
"There's a big resurgence of wanting good down-home food. Meatballs taste like your youth."

– Nick Phillips


I BELIEVED THE owner of Creekside, Nick Bochicchio, when he told me his mother shared his grandmother's recipe. This was believable because he is the only son of an Italian family from Connecticut. My father was the only boy in his family and he was spoiled rotten. Bochicchio's secret, which he shares without hesitation and has published before, is "oodles of Parmesan and parsley and homemade breadcrumbs."
Bochicchio grew up learning the recipe in his mom's kitchen and his first job was at a deli like his before he became the chef at Snake River Brewing. In 2006 he bought his own deli, Creekside. At home he sometimes mixes beef with pork and makes them larger than the one-ounce portion he makes for deli sandwiches. At Creekside he sticks to pork only because he says pork has a lot more moisture than beef. He sears each meatball before he bakes it, another important step in my family's recipe, which calls for ground beef, pork, and veal.
"When you overcook meatballs, you are rendering out all the fat," says Nick Phillips, the owner of Sweet Cheeks Meats, a butcher shop where you can buy several different iterations of meatballs to cook on your own. "The meat will be dry and firm. If there is too much fat in the meatball it will fall apart." Phillips sometimes makes his meatballs out of a mixture of lamb and beef and sometimes he makes them using only beef. He also makes a Moroccan-inspired lamb merguez meatball using Sweet Cheeks' homemade harissa spice blend. "Gluten helps hold them together, forming a bond inside," he says. Unlike town's other meatballs, Phillips' are cooked in a smoker. He tells his customers not to turn their backs on them when they reheat them in the oven.
"OBVIOUSLY THEY ARE comfort food," Bochicchio says of meatballs. "I eat them all the time. If I'm hungry I'll grab a couple of meatballs at the deli and a toothpick and snack on them. Every time I go back and visit my family, the first meal is meatballs and sausage on ziti. That is always the tradition. They can become very fancy and fantastic but I grew up as simple as it can get." And that is what he is teaching his sons, nine and five. "When they come to work with me I have them put on the gloves and make them by hand."

These images of the Bochicchio family remind me of a similar tradition in my family—Papa pasta. As you might guess, it was served with meatballs. When he was alive, Papa would dish up the rigs (rigatoni) one plate at a time, schmearing a ladle of sauce on the bottom and pouring two more on top of one or two gigantic meatballs. We called his servings "dog-choking portions." He would tell us to eat it while it was hot, wipe the sweat from his brow and be the last one to sit down, often still wearing his marinara-stained white apron. The photos of Papa teaching his grandchildren to make meatballs are some of my most precious memories of him.
I'll never eat Papa's pasta and meatballs again, so whenever meatballs are on the menu at restaurants like Local Restaurant & Bar, Calico Restaurant and Bar, Il Villaggio Osteria, and Bin22, I order them. During the busy season, Bin22 sells more than sixty meatballs topped with fresh mozzarella from Vermont per night. Bin22's recipe, as with most great Italian recipes, is simple: ground beef, pork, egg, milk, homemade breadcrumbs made with Persephone bread, fresh parsley, fresh oregano, garlic, salt, and pepper.
"I think the secret is we do it fresh," says Bin22 chef Luis Hernandez. "They stay soft, tasty, and really good to eat." The meatball of Hernandez's youth came from his mom who lives in Mexico City. It has hard-boiled eggs, rice, and cilantro and is just as dear to him as the memories of meatballs of my youth are to me.
For Phillips, his first meatballs were the fist-sized balls at Sbarro in his local mall. His current recipe is borrowed from a culinary school he trained at in Las Vegas. But he knows a lot about Italian cuisine because he married into an Italian family. Nora Phillips, his wife, works right next to him at the butcher shop and makes all of the sauces including Carmen's gravy, her grandfather's marinara sauce that she learned to make as a Catholic schoolgirl in Chicago. "There's a big resurgence of wanting good down-home food," says Nick Phillips. "Meatballs taste like your youth. They make you remember being a kid."
Paul Cucchiarelli making a "meat bawl" pie at Hand Fire Pizza. Photo by Ryan Dorgan
Nick Bochicchio's Creekside Market pork meatballs are seared before they are baked. Photo by Bradly J. Boner
Nick Phillips's Scott Lane butcher shop, Sweet Cheeks Meats, sells several different types of take-home meatballs. Photo by Ryan Dorgan
At Bin22, executive chef Luis Hernandez makes Italian-inspired meatballs, but grew up eating his mom's Mexican meatballs. Photo by Bradly J. Boner