Glide On
A historic dude ranch is newly opened in winter, becoming the valley's first destination Nordic ski spot.
BY Dina mishev
PHOTOGRAPHY BY SARGENT SCHUTT
UNTIL LAST WINTER, one of the prettiest ranches in Buffalo Valley was closed most of the year. Counted in years, Turpin Meadow Ranch has been open almost forever—since 1932. But up until January 1, 2015, you could only stay there as a guest for four or so months of every year, June(ish) through September. None of the ranch's log cabins were winterized. (Not having foundations was the least of their problems.) It took two years of work, but they're now ready for winter. They're also ready for Nordic skiers. About fifteen kilometers of groomed trails—Nordic skiers are the priority, but fat bikers are welcome when conditions permit—wind around and through open meadows and pine forest. These trails are world-class.
Jackson Hole finally has its first destination Nordic resort. One of the couples that co-owns the ranch, Nancy and Hans Johnstone, are both former Olympic biathletes. Biathlon combines cross-country skiing and rifle shooting. "We're still working on the permits to get the shooting part of the sport going at the ranch, but the skiing terrain is pretty phenomenal," Nancy Johnstone says. "There are a lot of challenging hills and downhills, turns, and rolling terrain. I think it is the best Nordic skiing—dare I say it—in the West."
I am a downhill skier. Cross-country skiing terrifies me. I have classic skied a total of three times. Each time, faster than you can say "ouch," my skis, edgeless and as rigid as overcooked spaghetti, flew out from beneath me. Each time, my coccyx took the brunt of the fall and I limped around like a saddle-sore city slicker for a week.
The last time I stepped into skinny skis was seven years ago. Crumpled in a mess of skis, poles, and outerwear and rubbing my tailbone in a parking lot by Flagg Ranch, I swore never again to attempt this death sport.
But I'm a sucker for cozy cabins. I am also a fan of the Alpine House, the Johnstones' Scandinavian-feeling, twenty-two-room inn tucked near the end of a side street several blocks from Jackson's Town Square. When I first heard the couple were involved in the redo of Turpin Meadow Ranch—with Nancy handling most of the design and decor—I imagined a blonde-log cabin with a bed covered in wool blankets and a down comforter, a wood-burning stove in a corner, and cheerfully colored furniture and interiors. I deemed that vision almost worth further coccyx trauma. But firsthand reports of the ranch's fabulous food—fresh pastries, granola, fruit, and a buffet for breakfast, as well as hearty soups and sandwiches for lunch and multicourse dinners—were what really sealed the deal.
TURPIN MEADOW RANCH is about an hour from downtown Jackson and feels like another universe. Driving eleven miles down Buffalo Valley Road, between Moran and the western side of Togwotee Pass, that feeling only intensifies. In the summer, this road connects to the modern highway over Togwotee, but in the winter, Turpin Meadow Ranch is the end of the road. Snowplows make it over the small bridge spanning the Buffalo Fork of the Snake River and continue the couple hundred feet to the ranch's main lodge. And that's it.
"We're literally the end of the road," Johnstone says. In winter it's skis, snowshoes, fat bikes, and snowmobiles only past that point. (Unusual for a Nordic resort, the ranch welcomes snowmobilers. The Continental Divide Trail, one of the most popular groomed snowmobile trails in the country, passes through it.) "Everyone told us it's like oil and water with snowmobilers and skiers, but it has worked out great," she says. "People can snowmobile to the ranch but not around the ranch. So far, we haven't had any conflicts. In fact, it makes it a little more fun having snowmobilers around."
As badly as cross-country skiing has treated me, snowmobiling is worse. Over a decade ago, while riding in a whiteout not that far from Turpin Meadow Ranch, I rode into a gully. I broke several ribs and my tibial plateau. A small blood clot formed in my right calf. If cross-country skiing scares me, snowmobiling terrifies me. So cross-country skiing it is.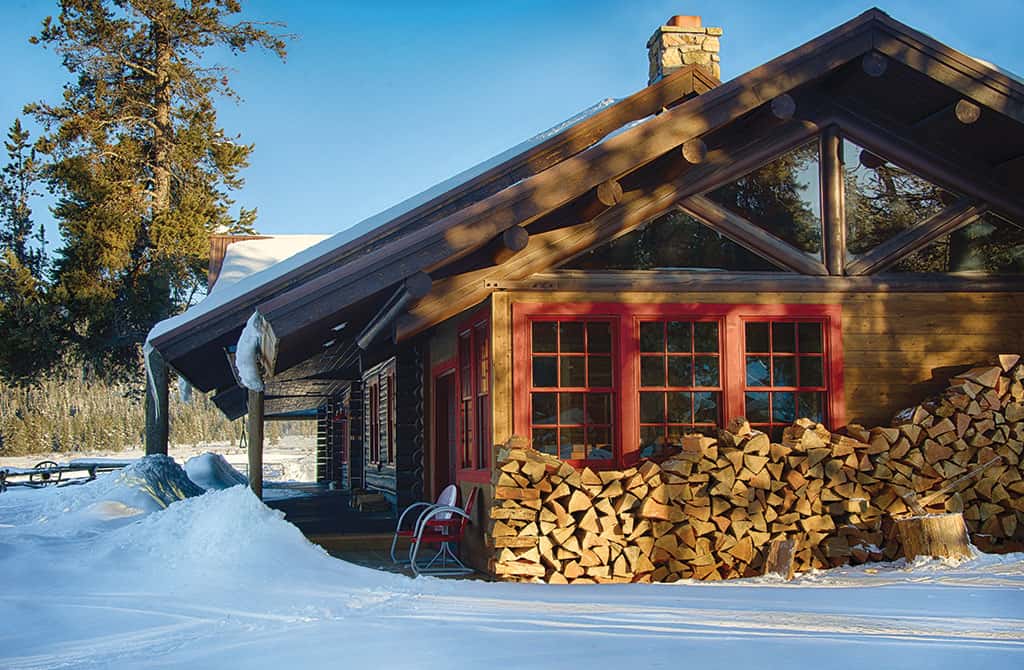 THE METALLIC TASTE of fear settles in as soon as my boyfriend, Derek, and I, along with our dog, Rio, check in (for a twenty-five-dollar cleaning fee, dogs are welcome). Arriving at the ranch with plenty of daylight left, I know I will have to ski that afternoon. First, though, I take a nap to fortify myself for what I assume will be yet another adventure that ends with a bruised coccyx.
Our cabin, which was built in the 1930s, is almost identical to my vision. Logs are peeled, making them cheery rather than dark and dour. Linens are bright. The walls that aren't log are painted the color of lemon meringue. A gas stove in the corner starts up with the flip of a switch. The bed is tall with blankets; a down quilt hides beneath a Pendleton blanket.
An hour later, I awake mildly steeled for suffering and excited about an idea: I will try skate skiing instead of classic skiing. True, skate skiing is supposedly tougher than classic skiing. Still, I think my chances with this type of cross-country skiing will be better. They certainly can't be worse. Because I ice skated for much of my childhood, I figure the memory of the motion is hidden within my muscles. I do not, however, think about the difference in length between ice skate blades and skate skis.
DEREK AND I get rental gear from the lodge and, with Rio running circles around us in the snow, set off on the ranch's three-kilometer Summer Homes Loop, which is accurately described as flat.
Even without hills to negotiate, "graceful" does not describe my technique. (At the beginning level, skate skiing requires more technique than classic skiing, which offers assistance in the form of parallel grooves set into the track. These grooves usually keep beginning skiers from tripping themselves with their skis.) Yet what I lack in grace I make up for with verticality. Once, distracted by the toothiness of the Tetons in the distance, I nearly cross my skis. But I quickly correct. Ninety minutes after setting off, we return to the main lodge. I step out of my skis as quickly as possible. After going this long without falling, I'm not about to eat it in the parking lot. I am, though, more than ready to eat some snacks in front of the fire roaring in the lodge's double-sided, river-rock fireplace.
Nuts & Bolts
Nightly rates include breakfast, dinner, and use of the ranch's Nordic Center. (Rental gear starts at $20/day.) Rooms start at $295/night for two people. (Weekends have a two-night minimum stay.) Lunch, served 11 a.m. until 2:30 p.m. daily (until 3 on weekends), is not included in overnight rates. Lunch entrees range from $6-$12. Nordic Center day passes start at $15. The ranch rents fat bikes but does not offer guided fat bike trips. It does offer guided snowmobile trips starting at $125. Dinner is served from 5 to 8 p.m. daily. Nonguests must make advance reservations. 307/543-9147, 24505 Buffalo Valley Road, Moran, turpinmeadow
ranch.com