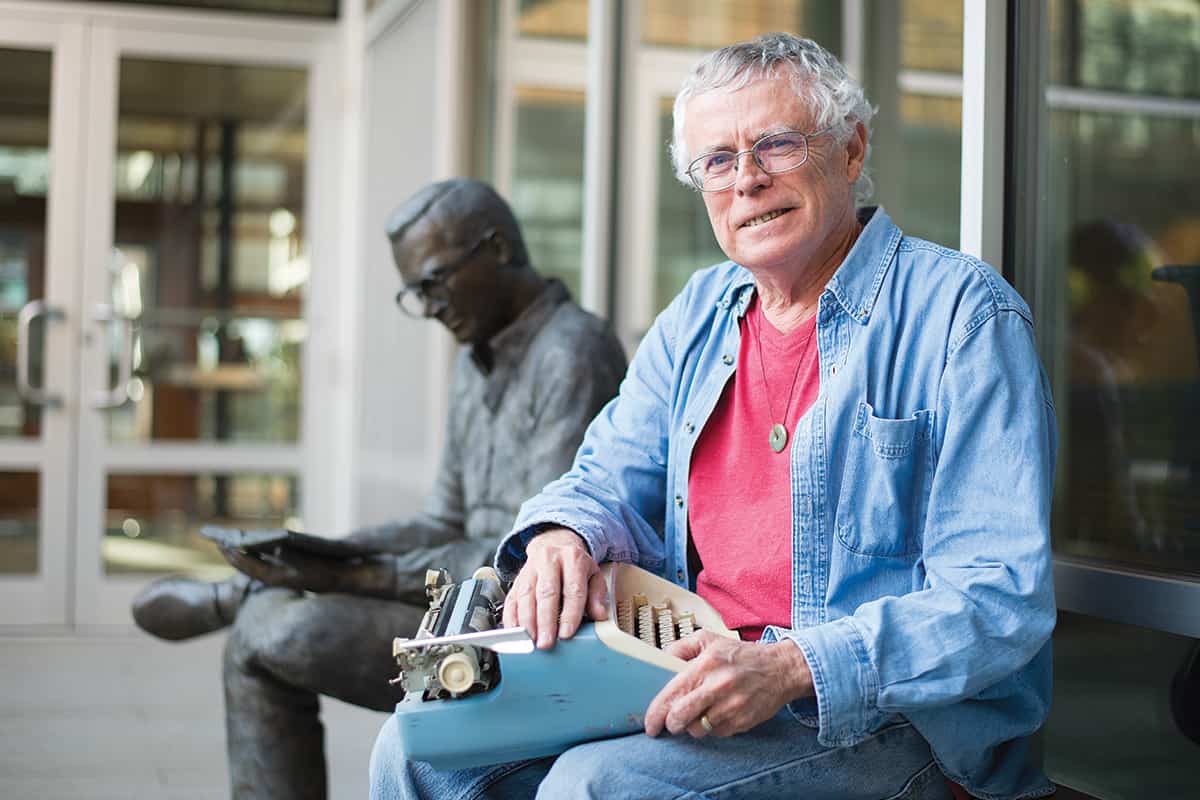 Tim Sandlin
Interview by Mark Huffman
Photograph by Bradly J. Boner
A man who has spent more time at Pearl Street Bagels than any of the employees, Tim Sandlin is the Hole's best known writer, because he often uses the downtown cafe and bagelry as his office and because of his success. The Oklahoma native discovered the area when his father worked in Grand Teton National Park in the 1960s. Sandlin started spending summers here in 1968 and, in 1974, after college, moved here full-time. While starting his writing career, he slogged his way through exotic jobs: He was a cook and egg roll roller at The Lame Duck, a now-defunct Chinese restaurant with a tiki-bar feel; did trail inventories for the Forest Service; and worked as an elk skinner, though "only because I thought it would be cool on a jacket flap," he says. He has written eleven novels; Sex and Sunsets, Skipped Parts, and Sorrow Floats, have all made their way to a theater near you. He also wrote the GroVont Quartet, founded the Jackson Hole Writers Conference, and is a recent recipient of the Governor's Arts Award. Sandlin lives in Jackson with his wife, Carol Chesney, and their kids, Kyle and Leila.
Q: How did you end up in the valley?
A: I was happy and healthy in Jackson Hole, and not happy or healthy back in Oklahoma. It made sense to move here full-time.
Q: Where did you live when you were new here?
A: I lived outdoors the first few summers. I had a tipi on BLM land on the Snake and later up the Gros Ventre when I was doing trail inventory. Later, I moved into the Glenwood ghetto, in 1976. I paid $90 a month, maybe. I've forgotten most of my past.
Q: What about Jackson back then do you miss?
A: We all miss Jackson Drug, and the colorful old codgers who came here in the 1950s and didn't care what anyone thought.
Q: Are the people here now different than back then?
A: People used to be stratified by their sport—kayakers hanging with kayakers, etc. Now they're stratified by money.
Q: What does Jackson need?
A: Jackson needs a liberal arts college for rich kids with ski scholarships, so I can have a place to work.
Q: When you were doing all those strange jobs, were you just paying your bills or gathering exotic background for novels?
A: Mostly just getting by. When a job looked like it might turn into a career I'd quit so I'd stay desperate enough to keep writing.
Q: What was your last job that wasn't writing?
A: I was a waiter at Jedediah's until after my second novel.
Q: You're known to many as that guy in Pearl Street Bagels (PSB) drinking coffee and scribbling. How did that start?
A: Pearl Street opened some twenty-five years ago, I think, and I was an early regular. I wrote there in winter and on a rock by a creek in the spring and summer.
Q: Do you have a usual PSB order?
A: Butter and jelly on seven-grain. And coffee.
Q: You run the Jackson Hole Writers Conference. Do people want to know how to write or how to market?
A: It's about equal between people who want to write and people who want to be a writer. We take care of both.
Q: Is there a novel you've been thinking of writing for forty years and still hope to pen?
A: I want to write Shane after everyone forgets it's already been written.