Soak It Up
Because dry skin is as much a part of Jackson Hole life as deep powder, we tested lotions for the face, hands, and body.
BY maggie theodora
photography by Jeffrey Kaphan
FINGER SPLITS? PLEASE. You know you've got seriously dry skin when the corners of your nostrils are cracked and bleeding. This happens with regularity to Jackson Hole locals. "The severity of the weather conditions here—the sun, the dryness, the cold—is unique and there aren't many effective products in the marketplace to solve the dry skin it causes," says Frank Fanning, the founder of Jackson-based trilipiderm. "Everyone says their product works, though." Even if your nostrils are doing fine, chances are our weather is going to get some part of you. We sorted though salves, rubs, lotions, and, yes, even lotion wipes, to find the ones that work best on all body parts in our extreme climate.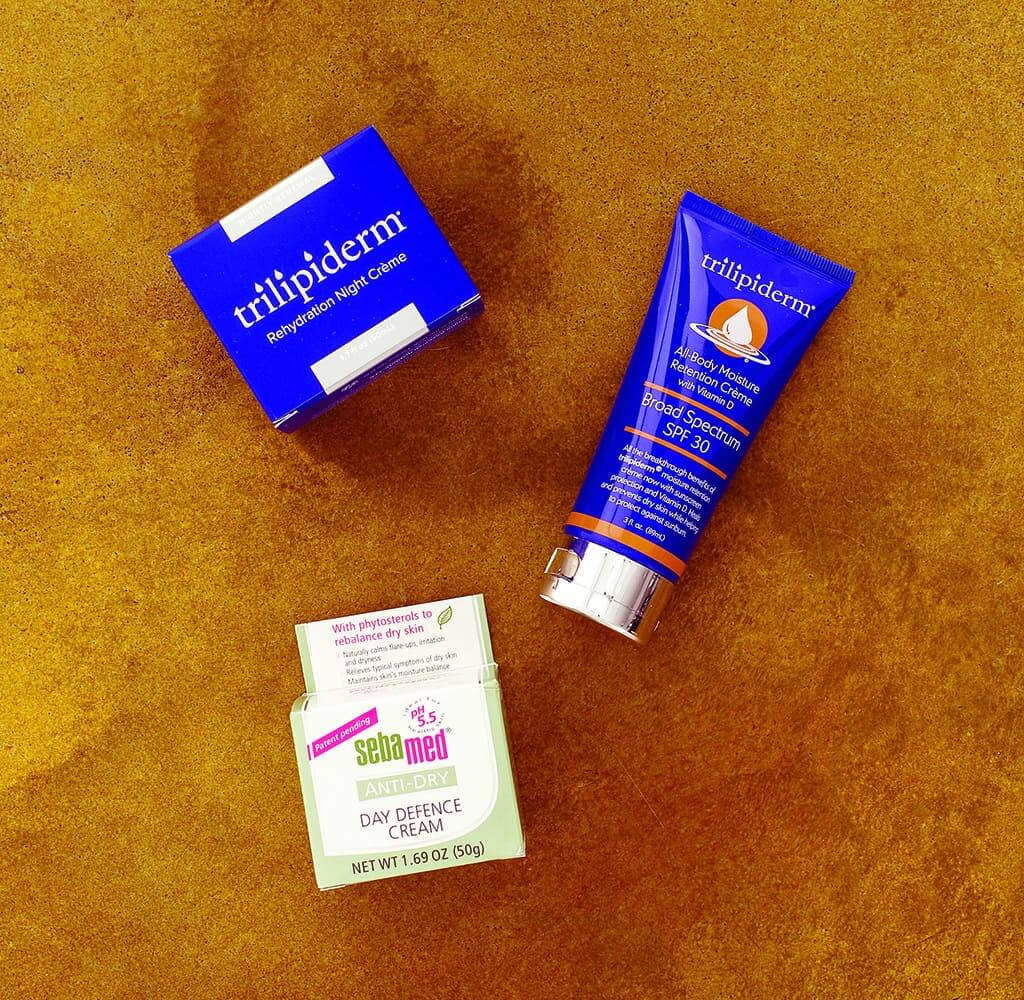 Other night creams might be as good as Jackson-based trilipiderm's Rehydration Night Crème—vitamins A, C, D, and E, hyaluronic acid, and a proprietary lipid complex enhance elasticity, boost collagen, hydrate and plump skin, and fight free radicals—but they cost three times as much. $50, Goodie 2 Shoes, trilipiderm.com
Trilipiderm's Broad Spectrum SPF 30 neither feels nor smells like sunscreen, so you'll have no problem reapplying it when you're out on the slopes all day. From $17.95, Jackson Whole Grocer, 1155 S. Hwy 89, trilipiderm.com
When your regular daytime facial moisturizer isn't cutting it anymore, bring in sebamed's Anti-Dry Day Defence Cream. What the supermoisturizer lacks in sun protection—it doesn't have any—it makes up for in thickness and penetration. $22.95, sebamedusa.com
When you need just a little bit of moisture and you're in a hurry, go for Pacifica's Lotion Wipes, biodegradable and infused with coconut milk and signature scents. $7.99, Jackson Whole Grocer, 1155 S. Hwy 89
Look no further than Dr. Bronner's for an organic lotion that's as friendly to your wallet as your skin, and suitable for your face, hands, and body. $9.99, Lucky's Market, 974 W. Broadway
Locals went crazy for trilipiderm's All-Body Moisture Retention Crème when it came out several years ago. It's no wonder: it's equally good at healing dryness as it is at preventing it. From $14.95, available at retailers around the valley
Even though it has shea butter, chamomile, calendula, St. John's wort, rosemary and linden flower, Burt's Bees' hypoallergenic Body Lotion is fragrance-free. Plus, it lasts all day long and is thick enough to help with finger splits. $8, Jackson Whole Grocer, 1155 S. Hwy 89
The Naked Bee's Moisturizing Hand & Body Lotion lives up to its promise of "all the good stuff, none of the bad stuff." It contains certified organic aloe and sunflower oils, green and white teas, honey, hyaluronic acid, and spirulina. Missing are parabens, gluten, artificial colors and dyes, and phthalate fragrances. $6.99, amazon.com
If you can get past its greasiness, Aquaphor excels as a skin protectant against windburn. We also love it to help heal chapped lips. From $4.99, available at grocery and drugstores around the valley
Keep dryness at bay by using sebamed's nongreasy, nonsticky, all-body Anti-Dry Hydrating Body Lotion after every shower. $22.95, sebamedusa.com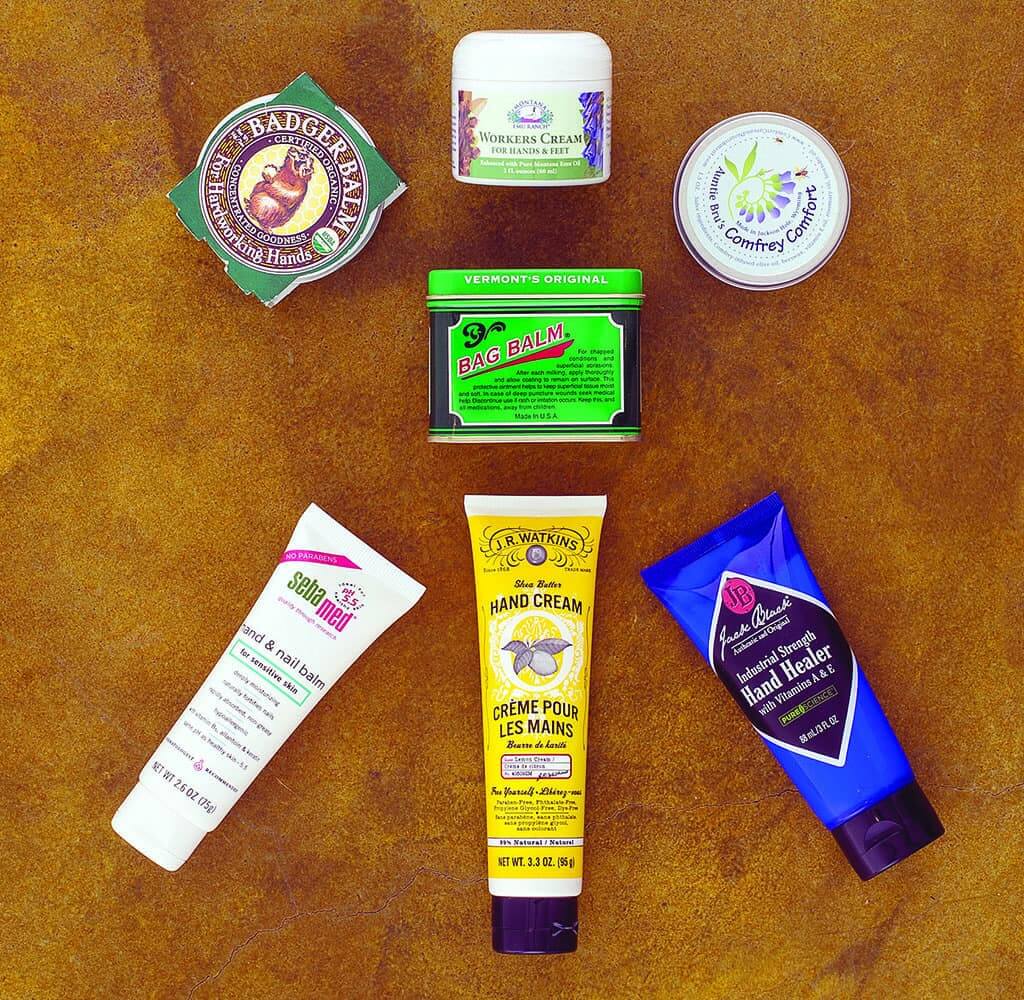 Badger Balm has dozens of products now, but its original, For Hardworking Hands, is still the best, treating the worst finger cracks and splits along with chapped and weathered skin. $7.99, available at retailers around the valley
We were skeptical of the emu oil, but combined in this cream with herbs and clove oil—the latter has antibacterial properties—we now don't know how our feet ever lived without Montana Emu Ranch's Workers Hand & Foot Cream. After a week of daily use, calluses started softening. $11.95, montanaemuranch.com and Jackson Whole Grocer, 1155 S. Hwy 89
Created in 1899 to help make milking cows comfortable, Bag Balm today is used as everything from a salve for sore muscles to chamois butter, always moisturizing wherever it's rubbed. $14.99, available at grocery and drugstores around the valley
You can't get more local or natural than Auntie Bru's Comfrey Comfort. Made with organic comfrey and lavender grown in Auntie Bru's garden in downtown Jackson, we use this on everything from itchy skin to burns and the driest of skin. $12.99, comfortcare
andnourishment.com and Jackson Whole Grocer, 1155 S. Hwy 89
When you care for your nails as much as your skin, sebamed's Hand & Nail Balm helps manicures last longer. $12.95, sebamedusa.com
Even if it didn't come with a lemon-cream scent, J.R. Watkins' Shea Butter Hand Cream would be our top pick for medium-dry hands. It soaks in quickly and leaves no greasy residue. Best of all? Its price. $7.99, Lucky's Market, 974 W. Broadway
Guys usually first gravitate to Jack Black Industrial Strength Hand Healer because it is fragrance-, color-, and frill-free. They stick with it because it's "simply the best hand lotion ever," to quote a valley carpenter. From $15, getjackblack.com