Trash-Talking
BY Maggie Theodora
Photograph by Ryan Dorgan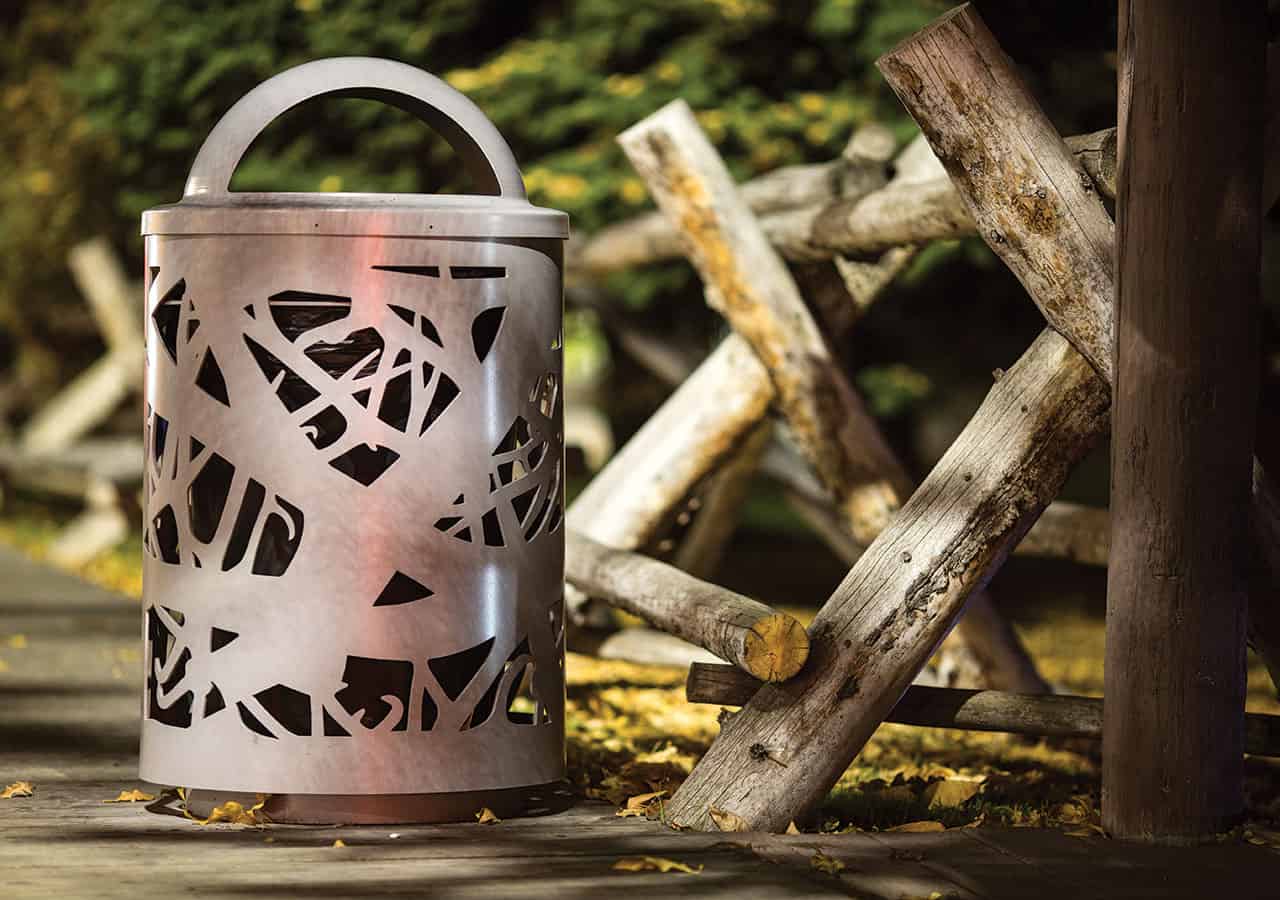 THE MOST PHOTOGRAPHED things in downtown Jackson are the elk antler arches at each corner of the Town Square. But since last spring, both locals and visitors have been taking shots of very different antlers, too: the antler design on new trash cans. "I like that the design is referential—it is of the antler, but not exactly the antler," says Nona Yehia, a founder of Jackson-based E/Ye Design. As far as Yehia and Carrie Geraci, director of Jackson Hole Public Art (JHPA) and the person who initially had the idea for these trash cans, know there aren't any other cities or towns that have receptacles that speak to the area's character like these do. "I have been to places where benches stand out and there are different street furniture installations that are of the place, but I've never seen trash cans," Yehia says. "But why not trash cans?"
For years there was a line item in the Town of Jackson budget to replace downtown trash cans. The new ones were going to happen in spring 2016. Jackson Hole Public Art, a nonprofit that works—often in partnership with different entities—to integrate art into various public spaces, knew about this expenditure. In fall 2014, as part of the annual recommendations the group gives the mayor and Town Council, JHPA included Jackson Hole-themed street furniture. "This was an easy way to make daily trips around Jackson more interesting," Geraci says. The group was told that if they could match the budget for standard trash cans, it could happen. JHPA put out a call to local artists and designers and, by spring 2015, a design team had been assembled: Yehia and Inanna Reistad of E/Ye Design, Bland Hoke from Jackson Hole Public Art, and Jack Koehler of Friends of Pathways.
"Very quickly we gravitated to patterns in nature," Yehia says. "We had water patterns, leaf patterns—we were looking at different variations of these and at different scales. But then a member of the team hit upon the antler theme and that seemed so obvious."
GERACI FIRST GOT the idea to look into the possibility of doing place-specific street furniture in Jackson after a visit to another town. That town has a strong tradition of western furniture making. "There was a pocket park near my hotel—two benches, a couple of trash cans, some trees with grates," she says. "It was all standard street furniture. Here we were in an area that was home to some of the world's best western furniture makers, and this was so nondescript. It was nice to have a space to rest, but I thought it was a missed opportunity to showcase something about the area."
JHPA secured private donations to cover the fees of the design team. And then the project "just capitalized on money that was already in the town's budget," Geraci says. "[Jackson Hole Public Art] does lots of stuff behind the scenes, so we don't always get recognized for sparking ideas. This is a great example of how we're pretty scrappy. For this project we just needed a little seed funding." Not counting the privately donated design fees, seventy-four new trash cans cost $93,106. JHPA worked with Premier Powder Coating in Rexburg, Idaho, on design engineering. Since Rexburg is only two hours away, Premier delivered the trash cans for free. "That saved us thousands of dollars in shipping and is a much smaller carbon footprint than something from overseas," Geraci says.
"I THINK CALLING these art is going too far," Yehia says of the antler-patterned cans. "But I hope people notice the good design. By rethinking how we could use time on the laser cutter—the off-the-shelf trash cans were laser-cut—in a more inspired way, we were able to create pieces that are totally unique to the identity of our town." Geraci says, "People seem tickled by them. People have actually been sending me photos of them throwing stuff away." Jackson's street furniture also includes benches, which, right now, are privately funded, and tree grates.