Art for All
Yes, Jackson Hole has one of the most vibrant gallery scenes in the West (and we love checking them out), but there's also a growing public art scene that is accessible to everyone.
by Julie Kukral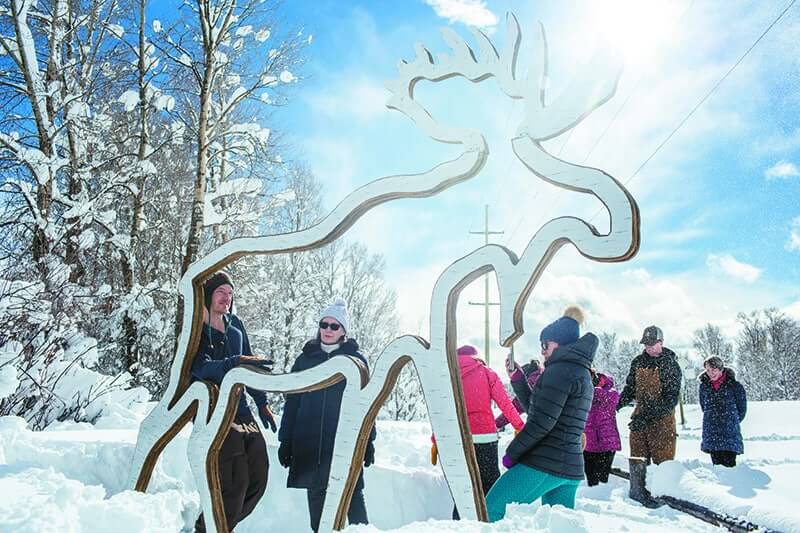 Bland Hoke Jr. speaks with Robin Moyer of the Village Road Coalition after installing a reflective bull moose sculpture commissioned by the VRC to help prevent moose deaths along Highway 390. Photo by Ryan Dorgan
THE TETONS MAY be the most iconic view painted in the western Wyoming sky, but Jackson Hole's man-made art scene is one of the most vibrant in the West. In addition to the abundance of natural beauty, the valley teems with art, even in some unexpected places, like the Jackson Hole Airport. After deplaning onto the tarmac and entering the airport terminal, travelers are greeted by the sculpture Arrival Over the Snake River, a stainless steel rendering of the Snake River, the lifeblood of Jackson Hole and the Greater Yellowstone Ecosystem. There are also antique moccasins on display in a glass case and a whimsical watercolor painting of cowboy boots. As you drive out of the airport, you pass a monumental bronze, Bucking Horse and Rider. (Just try and not stop to take a photo; the sculpture was placed so that the Sleeping Indian rises dramatically in the background.) Before you've even hit town, it is obvious that art is important to this valley. "Without [public art], you can just be in Any Town, USA," says Bland Hoke Jr., a local artist who has been involved with dozens (and dozens) of public art projects in the valley. Good public art, he says, functions as a way to showcase a place's values. It's no surprise then that since the National Center for the Arts began measuring arts vibrancy in every U.S. county in 2015, we've rated in the index's top 10 for small- to medium-size cities each year. In 2016, Jackson Hole even ranked No. 1, ahead of Santa Fe, New Mexico, as well as Glenwood Springs, Breckenridge, and Edwards (all in Colorado). The index, on a per capita basis, measures supply, demand, and public support for arts and culture.
"A public art collection is supposed to reflect the values and the people, and their stories. Jackson's public artworks give an entry point for learning about Jackson's history, present, and future."

— Carrie Geraci, Jackson Hole Public Art founder
Jackson has been home to galleries since the early 1960s, and today there are more than thirty in the valley. But, increasingly, local art opportunities expand beyond them. In 2010, Jackson Hole Public Art was founded to "integrate art into any environment" according to its mission statement. In the decade since, the nonprofit has helped manage or commission over $1 million in funding for temporary and permanent public art projects. One of its largest current temporary projects is the Town Enclosure Pavilion on the lawn of the Center for the Arts, a 78,000-square-foot campus that is home to the offices of more than one dozen arts/humanities nonprofits, performance spaces, art studios, gallery spaces, and, on its exterior southwest corner, the sculpture River Reverse. (Hoke, Terry Chambers, and Shane Lindsay created River Reverse with material left over from their Arrival Over the Snake River piece at the Jackson Hole Airport.)
The Pavilion was a collaboration between Carney Logan Burke Architects, Jackson Hole Public Art, and the Center's "Creative in Residence" program, which grants artists money and space to create an interdisciplinary, impactful work of art. Musical performances, art classes, and dance recitals have been held at The Pavilion—sometimes all at once. It is open to the public, and free. (To stage your own concert or play at The Pavilion, just call the Center and reserve it.) The Pavilion will remain up through October.
While it's not yet known what will replace The Pavilion (if anything), there is a location in town dedicated solely to rotating artworks: ArtSpot. On the south side of Highway 89 near Jackson Hole Whitewater (650 W. Broadway), ArtSpot sits where a gas station sign formerly stood. About a decade ago, Hoke replaced the abandoned sign with a pole made from a retired chairlift tower. This pole lowers and raises on a hinge, and every few months there's a new piece of art on the frame at the top of the pole. Sometimes it is a painting. This past spring it was a pseduo "treehouse" by Ryan Stolp. Of his piece Stolp wrote, "I want to inspire childlike excitement in passers-by—that fun giddiness you get with cool treehouse forts blended with living our amazing Jackson life." Jackson Hole Public Art founder Carrie Geraci says, "Ryan's proposal also stood out because it helped to meet one of the core goals of the ArtSpot, to make people smile as they drive by." Other past ArtSpot installations have included a Charlie Brown sweater (created by Suzanne Morlock), a gunpowder painting (by Danny Shervin), and glass bricks (by John Frechette). On a busy summer day, about 30,000 cars drive past ArtSpot. "It's designed to be a professional development opportunity for artists who have only done studio work but want to start submitting their work for public art projects," says Geraci.
One of the largest groupings of public art in the valley is the National Museum of Wildlife Art's Sculpture Trail. The three-quarter-mile trail winds along a sagebrush-covered hillside overlooking the National Elk Refuge. Since its opening in 2012, the trail has expanded to include 24 permanent sculptures and has hosted temporary exhibits. Jackson Hole Public Art commissioned two of the permanent pieces. Walter Hood's Aspen Gateway is a stylized rendering of an aspen grove made from reflective metal that mirrors the scenery around it. Don Rambadt's Sky Play is a collection of ravens made from carbon steel plates set against naturally oxidizing Cor-Ten steel panels. The trail also includes a 64-foot-long heroic-size bronze, Buffalo Trail, that features five adult bison and two calves; Isis by Simon Gudgeon; and Presidential Eagle by artist Sandy Scott. This summer's temporary trail exhibit is Spirit Totems by artist (and Grammy-winning musician) Herb Alpert.
Another famous wildlife-inspired public artwork is a bison silhouette by John Simms on the Village Road near the Aspens. "It would be hard to talk about Jackson's public art without talking about John Simms," says fellow local sculptor Ben Roth, whose work you can see in public places like Rendezvous Park and the restaurants Suda and Sudachi. The Village Road bison sculpture is one of Simms' earliest works. "The geometry of it is really interesting," Roth says. "It's made out of three circles, all the same size, and two them are chopped up and rearranged and put back together."
The National Museum of Wildlife Art has a three-quarter-mile Sculpture Trail with 24 pieces on it. Adjacent to the museum on a sagebrush-covered hillside overlooking the National Elk Refuge, the trail is home this summer to the temporary exhibit Spirit Totemsby artist and musician Herb Alpert.
A new silhouette was added to the Village Road this year. Hoke worked with Jackson Hole High School student Zach Wientjis, Jackson Hole Public Art, and the Village Road Coalition to create and install a moose silhouette at the entrance to Rendezvous Park. The moose serves dual purposes—to be a piece of art and to raise drivers' awareness that there are moose in the area. Hundreds of wildlife mortalities are recorded on Teton County highways each year. The silhouette is reflective and definitely catches drivers' attention. "There's a really amazing opportunity to create a better visual experience while driving—using art that you're going to want to see," says Hoke, who hopes to work with the Wyoming Department of Transportation (WYDOT) to install more reflective silhouettes of wildlife around the valley's roads. (There are reflective moose on the highway to the airport
already.)
Willow Grove (near 365 W. Broadway) also serves dual purposes. Placed at a tricky pedestrian crossing, "hopefully it's getting people looking and paying attention," Geraci says. "It was designed to make that whole WYDOT improvement of the five-way (intersection) a little more pedestrian-friendly." And visually interesting. The sculpture, by Seattle-based artist John Fleming, is made from slender pieces of rusted steel designed to look like abstract versions of the willow trees that used to grow on that spot before Flat Creek was diverted from its traditional channel here. (The creek was diverted to make room for street frontage.)
These are by no means an exhaustive list of Jackson's public art. (For that, please go to jhpublicart.org.) Roth has made stingrays you can see while backstroking at the Teton County/Jackson Recreation Center pool; Greta Gretzinger has painted several murals on and in buildings around downtown, including inside Merry Piglets and in the bathroom at Pearl Street Bagels; Wendell Field painted a mural on the exterior of Snake River Brewing; Travis Walker painted a mural on the exterior wall of what was formerly Q Roadhouse, next to Calico restaurant on the Village Road. Many Jackson restaurants including Trio, Local, Pearl Street Bagels, and The Kitchen hang temporary shows by up-and-coming artists.
And then there's what are pehaps our most famous pieces of public art: the antler arches on the Town Square. These are such a part of downtown that most locals likely don't think of them as public art. But they are. "It's not necessarily like [they were] created through a public art project, but [they're] super intentional and create a memorable situation for everybody to identify with," Hoke says. Geraci says, "A public art collection is supposed to reflect the values and the people, and their stories. Jackson's public artworks give an entry point for learning about Jackson's history, present, and future." And the best part? They're free.
Ryan Stolp's Everyone Makes It Work In Neverland at Jackson Hole Public Art's ArtSpot. Photo by Ryan Dorgan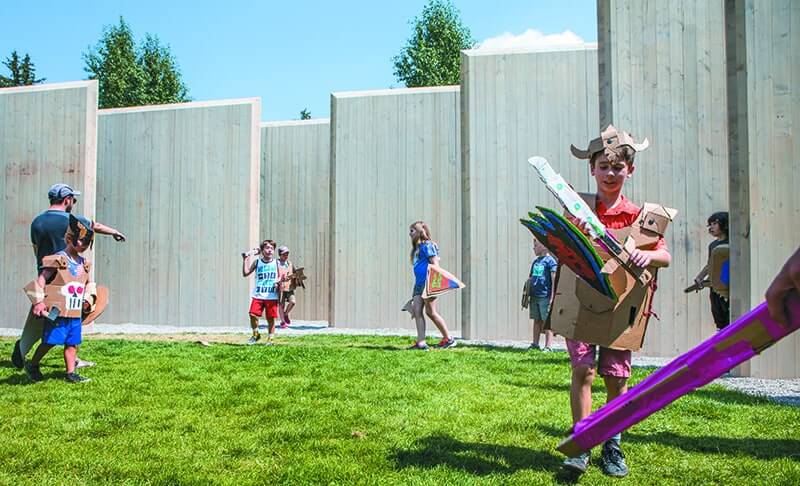 Kids play inside the Town Enclosure Pavilion during a summer camp. Photo by Amber Baesler
The Town Enclosure Pavilion at the Center for the Arts is a space for open-air gatherings and performances. Phot by Ryan Dorgan