Tiny House, Big Draw
Small homes are growing in popularity, even if Teton County isn't always sure what to do with them.
By Joohee Muromcew
Test out tiny living in one of Wheelhaus's Wedge models at Fireside Resort on Teton Village Road. Photo by Wheelhaus

I BECAME FASCINATED by the tiny home trend whilst building a 10,000- square-foot house. It was sort of like booking a lavish cruise when what you really crave is a quiet hike through the woods. We ultimately sold the house, though my tiny house love is still alive. I saw my first tiny house in 2005 in the San Francisco Bay Area at an art and innovation event called Maker Faire. Cute and made for cuddling, just like a teacup poodle, tiny houses seemed like a nice idea for people with more ideals than shoes. I had a lot of shoes back then. I was also obsessed with a 2012 design challenge offered by Graham Hill, founder of Treehugger, to inventively redesign his 420-square-foot SoHo studio in New York City. Every nook and cranny held a clever space-saving innovation and built-ins from Resource Furniture, like a long dining table that slid into the counter, a desk that folded into the wall, a long narrow cubby for a bicycle, and plug-in induction cooking plates that freed up the kitchen counter. The finale was both cringe- and envy-inducing—a sit-down dinner party for 12 very skinny friends. Most New Yorkers were unimpressed. Four hundred and twenty square feet can seem like a vast expanse to city dwellers.
In general, tiny homes are around 500 square feet or less. They are fully functioning homes and many arrive on a truck or trailer, ready to be hooked up to utilities. Others contain composting toilets or their own propane-fueled amenities. In researching this article, I had a number of attractive tiny homes in the valley in mind, though most owners asked not to be included because they were not zoned for it. I was also surprised how unwelcomed tiny homes are by neighbors and municipalities. Tiny homes elicit far different reactions than guesthouses or auxiliary residential units (ARUs) in that their affordability and mobility seems to spur fears of a trailer park or transient communities. I also tried to make the distinction between tiny homes intended as a vacation rental or second home versus the primary residence for a family who wanted to live the tiny home life—small, uncluttered, extremely efficient, and with minimal carbon footprint.
IT PROVED QUITE difficult to find tiny homes in Teton County that were not ARUs or in a resort. Architect Peggy Gilday, Principal at GYDE, designed a 400-square-foot home on Snow King Avenue, affectionately called the Hip Pocket Home: "It pushed the boundaries of living in town, and livability in a small space." It made creative use of outdoor TWICC (two-way insulated composite cladding) tiling that maximizes interior-exterior airflow and looks really cool. Currently occupied by a young couple who both work in the restaurant trade, its wavy white exterior stands out against the shingled bungalows and more recent large-scale development in this neighborhood. Asked if they had to get rid of a lot of stuff to move in, one of the current residents smiled and said, "We didn't have any stuff!"
Patrick Kearney, a former teacher at Teton Valley Community School, bought his small two-bedroom one-bath home in Victor with the intention to live in it year-round, though a move back east finds him and his wife, Olivia, and their dog, Pete, using it only in the summer. Not technically a tiny home at 700 feet, it still exudes the tiny home ethos of space efficiency and a full embrace of indoor-outdoor living. Generous patios, some of them semisheltered, extend the livability of the house, and a sleeping loft makes use of high ceilings. Spare furnishings, part of the tiny house living aesthetic, make the space seem more spacious.
In general, tiny homes are around 500 square feet or less. They are fully functioning homes and many arrive on a truck or trailer, ready to be hooked up to utilities.
The notion of downsizing and simplifying one's life has broad appeal, increasingly beyond retirees and empty-nesters. Steve Snyders, a publicist working with Jackson-based Wheelhaus, a manufacturer of tiny homes, sums it up for many buyers: "Instead of buying a McMansion, why not simplify your life and enjoy the outdoors?" Wheelhaus homes are most visible in the valley at the Fireside Resort on Teton Village Road. Both Wheelhaus and Fireside are owned by local Jamie Mackay, but the Wheelhaus homes have become popular with developers elsewhere in the country. A tiny house resort in Utah is in the works, and Wheelhaus recently shipped 20 duplex houses to Yellowstone. The units are admirably attractive with clean design, striking roof lines, a pared-down palette of colors and materials, and smartly efficient interiors.
"The architecture is beautiful," says Dennis Meyer, a Wheelhaus owner living in Auburn, California. The permitting and hook-ups proved to be more challenging than anticipated, but actually living in the tiny home with his wife has been a pleasant surprise. Meyer's wife loves to entertain, so they talk about how to do that differently, and with no neighbors in sight, they can fully appreciate all the oversized windows. They plan on building a big deck to extend their outdoor living space, and it helps that they "live a busy life." Meyers and his wife are not fully retired, and he said their transition from a large 6,500-square-foot house to their tiny house required shedding half their possessions in an initial move to a guest house, then shedding another half to move into their tiny home. They also built a barn nearby to house cars and equipment. Initially, they saw the tiny house as a transition to building a larger home elsewhere on their property, with the tiny house turning into labor housing. For now, however, their home, set on 22 acres of future vineyards, is "amazingly comfortable."
The notion of downsizing and simplifying one's life has broad appeal, increasingly beyond retirees and empty-nesters.
Wesley White, vice president of Wheelhaus, says the accessible price points, low environmental impact, and contemporary designs are appealing to millennials and retirees. They are seeing increasing interest in houses meant for off-grid living, which many see as the eventual evolution of tiny house living. Tiny House Crafters in Vermont specializes in off-grid tiny homes. Their 8-foot-by-20-foot Evergreen model features an off-grid water cachement system, a composting toilet, and propane cooktop range. Details like corrugated metal roofs and cedar clapboards give these houses a great deal of nestable charm.
LOOKING TO DOWNSIZE into a tiny home? First, check your permitting and zoning. Second, check your permitting and zoning. Then, begin to trim down your possessions. Take an utterly ruthless approach to clothing, books, furniture, and kitchen clutter. Will you really make puff pastry in your new tiny home? Toss that old spatula that ruins your eggs. A great challenge in Jackson Hole is the amount of outdoor gear we've all accumulated. Take a haul to the Jackson Hole Ski & Snowboard Club's ski swap, and think of creative storage solutions like wall hooks and outdoor storage trunks. However, before you take anything to Browse 'n Buy, read once more Marie Kondo's seminal work, The Life Changing Magic of Tidying Up. Extra credit for reading it on your iPad.
Pat and Olivia Kearney share a 700-square-foot Victor, Idaho, home with their pup, Pete. Courtesy Photo
GYDE Architects designed the Hip Pocket Home—a 400-square-foot house near the base of Snow King Mountain. Photo by David J Swift / Gyde Architects

Jamie Mackay's Fireside Resort on the Village Road offers a number of 400-square-foot tiny cabins for vacationers. Photo by Price Chambers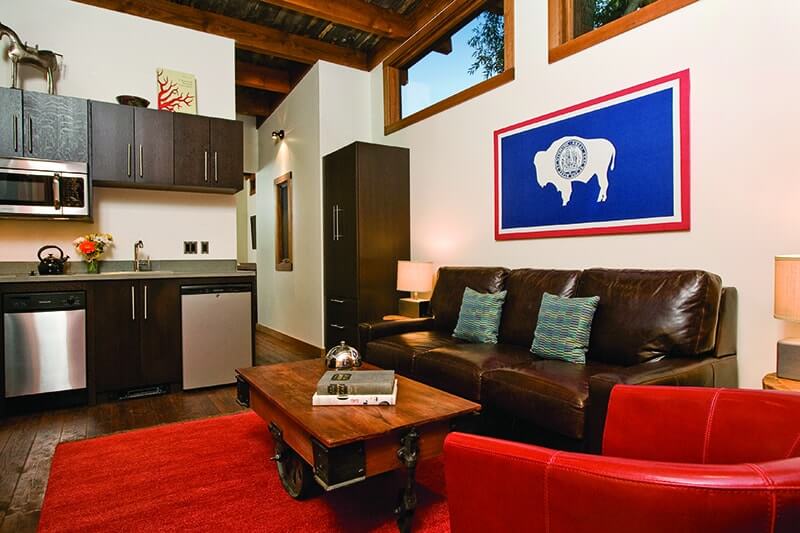 The Wedge offers 400 square feet of living space and comes "turn-key" ready—you just supply the furniture. Photo By Wheelhaus