Eat It
Staging the perfect picnic
By Lila Edythe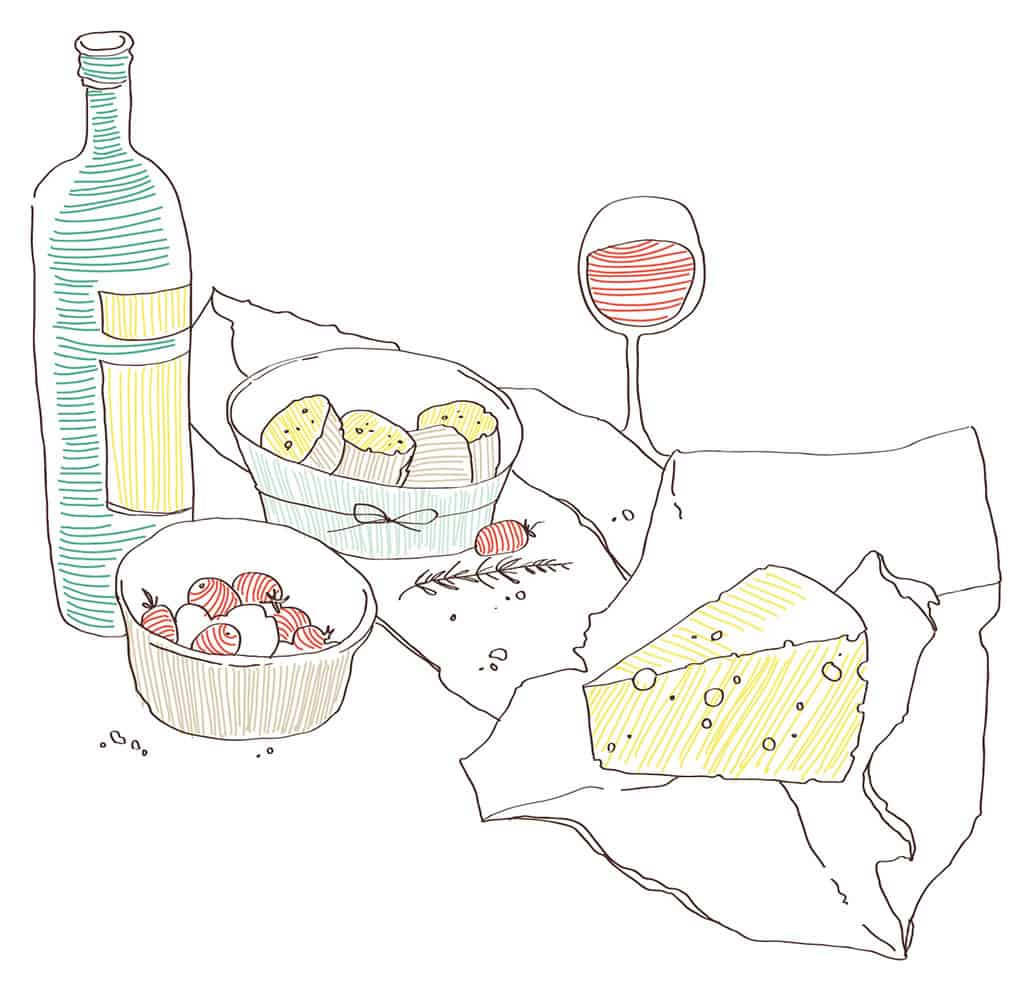 I SHOULD HAVE checked the weather forecast. This sunset picnic with my boyfriend is not going as I had planned. My imagination had each of us relaxing in a lightweight camp chair while sipping a cocktail, nibbling on a wedge of Manchego cheese, and basking in the warmth of the evening sun until we decided we were ready for dinner. Our meal, carefully packed in Tupperware containers, is fresh garlic-rosemary bread, kale salad, and sausage-filled ravioli.
There is no basking going on, however. The sun, and any warmth it might provide, is sealed behind a curtain of bruised clouds. We haven't heard any rumbling yet, but a thunderstorm is obviously headed our way. Had I checked the weather forecast, I would have seen there was a 70 percent chance of thunderstorms this evening.
But, since it's not raining yet, and because I am amazingly stubborn, we persevere.
When I open my camp chair and set it on the ground, a gust of wind immediately grabs it and sends it cartwheeling away. I sprint after it, turning around to ask Paul to make sure and hold onto the blanket. And also to the stainless steel bottle filled with the cocktails we premixed at home. What would be the bigger picnic faux pas—our blanket blowing away or our cocktail container spilling?
The chair caught, I return to Paul and wedge it under a rock so I have both hands free to rummage around in my backpack for the puffy jacket I threw in at the last minute. It might be August, but with no sun and an excess of wind, it feels pretty cold. As I zip up, I make a proposal to Paul. Simultaneously, he begins speaking, offering a proposal of his own.
Me: "Maybe we should abort and go eat all of this yummy food in the warmth and comfort of our home?"
Paul: "How about we move down into the trees? We'll be out of the wind."
Obviously, I've got a ways to go before earning my "extreme picnicker" patch.
Ten minutes later we are tucked into the trees, where, indeed, we are out of the wind. We're also out of view of everything. We might as well be eating in a closet at home. But I roll with it … until the cocktail bottle literally goes rolling down the hillside. Ours is not a flat stand of trees, but trees on a 40-degree hillside. I turn downhill to go after the cocktails and step on a stick that overturns the salad. The cocktail bottle wasn't open, but the salad was. Emerald green leaves of Lacinato kale litter the forest floor.
Driving home we pass the container of ravioli between us and gnaw on hunks of bread.
PICNICKING GOES BACK to at least the Middle Ages. Hunting was a favorite pursuit of the upper class; because hunters get hungry, servants created elaborate feasts in the field. Picnics remained a pursuit of the wealthy until Victorian times, when other classes caught on to the enjoyment of eating in the outdoors. In fact, in 1861, the book that was the guide to running a household in Victorian Britain, Mrs. Beeton's Book of Household Management, included instructions on how to hold a picnic. Mrs. Beeton recommended cold roast beef, meat pies, roast chickens, roast ducks, cheesecakes, and a large, cold plum pudding, as well as beer, claret, sherry, and brandy. Thankfully the picnic menus of today are usually simpler.
Picnicking in Jackson Hole does come with one difficulty, though: choosing a spot and time of day. Yes, picnics are perfect for dinner, and also for lunch.
Curtis Canyon
This area in the Gros Ventre Mountains on the east side of the valley is a twenty- to thirty-minute drive on paved, gravel, and dirt roads from downtown Jackson. Since it's the same road you take to get to the trailhead for the hike to Goodwin Lake, we recommend a lunch picnic here. Hike to Goodwin in the morning and, post-hike, as you're driving back down the Curtis Canyon Road likely famished, stop at one of the many informal pullouts and set up your spread.
Shadow Mountain
Straddling Grand Teton National Park and the Bridger-Teton National Forest, Shadow Mountain is the ultimate in free-form picnicking. At its northernmost end, Antelope Flats Road becomes dirt and winds around the flat sage meadow at the base of this mellow peak, which, more accurately, is a butte rather than a mountain. There are pullouts, some with fire rings, all along this road. Since the Tetons are directly across from you, and the only thing between you and them is a powerline, this place is great for dinner picnics.
Signal Mountain
There's no time of day you'll have the summit of Signal Mountain, in Grand Teton National Park, to yourself. This is because the views are sublime—Jackson Lake in the foreground, Mount Moran in the background, Yellowstone and the Absaroka Range in the far distance—and the drive is easy. RVs aren't allowed on this paved road, but any car can handle it. The summit is big enough, though, that a few minutes of wandering will lead you away from the crowds.
Snow King
Snow King makes picnicking easy: There's a picnic table on the lookout at the summit. From this spot, the only one in this article you can't drive to, you can watch the sun disappear behind the Tetons, catch the shadows of those mountains cast down onto the valley floor, and see the Gros Ventres aglow. As the sunlight fades, watch as the lights of downtown Jackson, directly below, come on. If you start your picnic before 7 p.m., you can ride the chairlift to the top, saving yourself the 1.5-mile hike up 1,500 vertical feet.
---
Picnic Essentials
1. Check the weather.
2. Wherever you go, some sort of camping pad is great, not only to sit on but also to keep your food off the ground. Our fav? A simple Therm-a-Rest Z.
3. Up the comfort factor without going overboard with a camp chair: Big Agnes Helinox chairs weigh less than one and a half pounds each.
4. On dinner/sunset picnics, bring headlamps. Just in case.
5. No matter how warm it is when you start, if you're picnicking at dinner, pack a puffy jacket.
6. YETI coolers keep things colder for longer than any other cooler we've ever tried.
7. Premix cocktails. If they have a carbonated component, keep that separate until you're ready to drink.
8. Pack a bag to put trash and dirty dishes in.
9. Eat neatly: The idea isn't to leave a feast of crumbs behind for local critters.
---
Picnics To Go
Pearl Street Market
This carefully curated market in downtown Jackson does cheese and salumi, as well as gourmet hot and cold sandwiches. Its desserts are already packaged picnic-friendly. 40 W. Pearl Ave., 307/733-1300, pearlstmarketjh.com
Picnic
The atmosphere at this new West Jackson hot spot encourages hanging out, but get a T-Day sandwich and Mediterranean salad to go, a Healthy Being cold-pressed juice to wash it down, and a couple of sweet treats for dessert. 1110 Maple Way, Suite B, 307/264-2956, picnicjh.com
Aspens Market
The West Bank's picnic headquarters, Aspens Market does sandwiches and has a wide selection of desserts, prepared foods, and drinks. There is a liquor store next door. 4015 N. Lake Creek Dr., Wilson, 307/200-6140, aspensmarket.com
Jackson Whole Grocer
This is the place for picnickers who can't agree on one food. Here you can get slices of pizza, custom sandwiches and salads, over two dozen prepared foods, and, if you're thinking more snack than full meal, cheese and salumi. Also, there's a liquor store on the premises. 1155 US-89, 307/733-0450, jacksonwholegrocer.com
Dornan's
Dornan's grocery store has sandwiches, simple prepared foods, and the valley's most interesting selection of bulk foods—from toffee-covered nuts to chocolate goji berries. The attached liquor store has the valley's best selection of wines. Get a soft-serve cone to eat on the drive to your picnic spot. 12170 Dornan Road, Moose, 307/733-2415, dornans.com
Kelly on the Gros Ventre
There's cold beer here and espresso, along with sandwiches made to order. Gros Ventre Rd., Kelly, 307/732-9837