Jim Kercher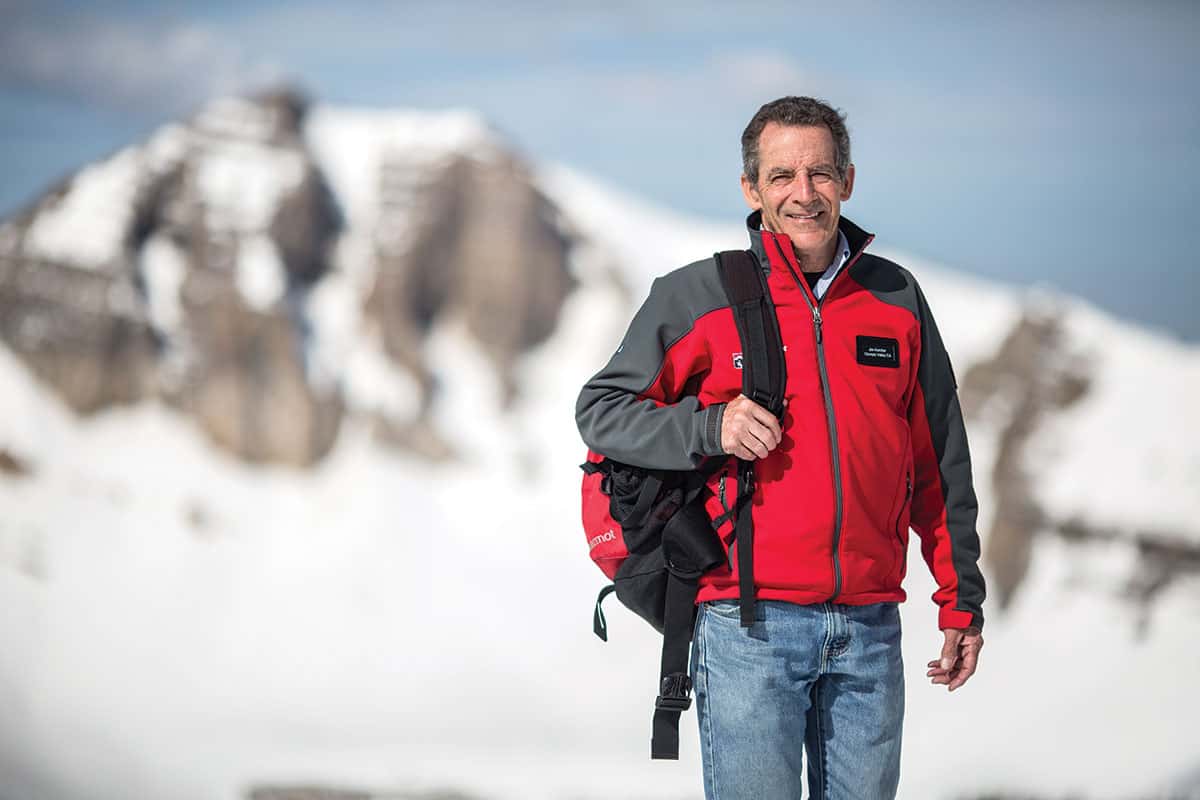 Interview by Rachel Walker
Photograph by Ryan Dorgan
As a young boy, Jim Kercher had two ongoing experiences that shaped the man he became: skiing and international living. A Northern Californian by birth, the now-director of Jackson Hole Mountain Resort's (JHMR) Mountain Sports School (MSS) learned to ski in Tahoe in the 1960s. His family also lived in Japan and Turkey for his father's Army job, which imprinted Kercher with a deep respect for other cultures. In 1994, after stints at ski schools in Mammoth, California, and Breckenridge, Colorado, he took the helm of the MSS—without ever having skied at JHMR. "A friend called me raving about how spectacular the place was, about how much opportunity was here," Kercher says. He and wife Kathleen Hesler moved to the valley and discovered the skiing was as exciting as promised. But they couldn't stay. Hesler's job required significant travel, and the Jackson Hole Airport wasn't as connected then as it is now. So four years later, they moved closer to a major airport, settling in Beaver Creek, Colorado. But in 2015 the couple returned, and Kercher was back at MSS. This time, he has no plans to leave.
Q: How did living abroad as a child influence you?
A: We moved to Japan when I was about six years old, a real impressionable age. We lived in a Japanese neighborhood, and my father spoke the language. Living in different cultures puts you into a frame of mind where every thing and every place has its offerings.
Q: When did you first fall in love with skiing?
A: We lived in California when I was a teen, and I spent every spare moment at Tahoe on the weekends. I was one of the high school lift operators, I taught skiing. I did anything I could to be on the slopes.
Q: So a career in the industry was a given?
A: [Laughs]. I was pre-med in college—my degree is in biology with a minor in chemistry—and got drafted for Vietnam right after my senior year. After working as a medic in the service, I decided I wanted to be an orthodontist, but I didn't get into dental school. I moved to Tahoe and got interested in construction and building. I got my own license in California and built in the off-season and taught skiing in the winter.
Q: Describe the ski scene in the 1970s.
A: The industry was starting to grow exponentially. The focus was on visitation and increasing skier visits. Ski school was where you developed dedicated return visitors and relationships.
Q: What do you think makes an excellent instructor?
A: Knowing how to communicate is the most important thing. Individuals will always put off signals telling you they're not "getting it" when you're teaching, typically expressions of boredom or fear. And the best instructors can read those signals and move the lesson in a different direction.
Q: What were your initial impressions of JHMR in 1994?
A: Early in our first season, my wife and I were on the tram and she looks out of the window and says, "We're not in Brecken-ridge anymore."
Q: How many days a year do you ski?
A: As many as I can.
Q: What's your perfect ski day?
A: When the snow is good, there is nothing better than taking the tram to Rendezvous Bowl to the Hobacks.
Q: Memorable moments of your early skiing in Jackson?
A: I was good friends with [World Extreme Skiing champion] Doug Coombs, and one day he took me and longtime instructor Jamie Mackintosh up toward Pucker Ridge. I'm thinking it's a bit sketchy, and at the top I said, "That was a little rugged." [Jamie] looked at me and said, "You'll get used to it."
Q: And have you?
A: I like to think so.