Wild & Mild
A scenic float on the Snake River doesn't get your adrenaline going, but there's great wildlife watching and Teton views.
By Cody Cottier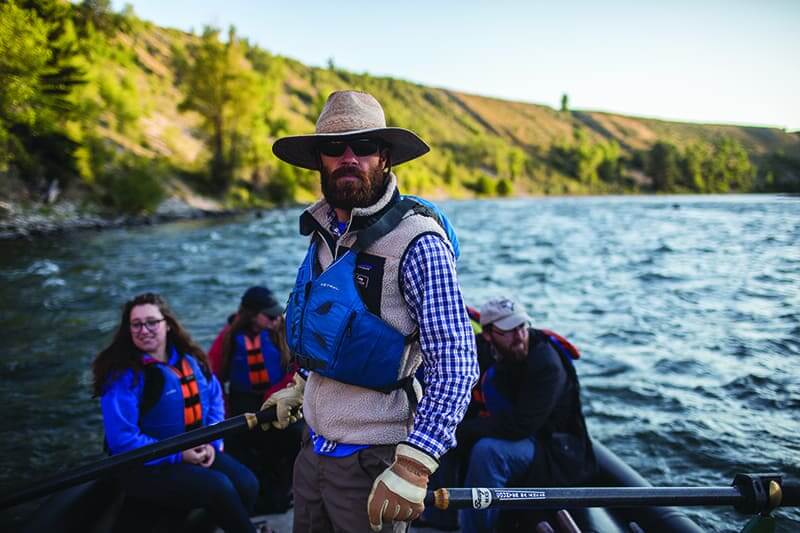 Peter Ericson looks downstream shortly after launching from Deadman's Bar in Grand Teton National Park. Photo by Ryan Dorgan
LAST SUMMER, AS Peter Ericson pushed our raft out from the boat ramp at Deadman's Bar in Grand Teton National Park (GTNP), the range rose in front of us. The craggy peaks were about 10 miles away as the crow flies, but felt like I could reach out and touch them. And that feeling lasted for the next three hours—through the entirety of the scenic Snake River float I did with my visiting parents.
We perched on an air-filled tube at the front of the roomy, 15-foot rubber raft, complete with a carpeted floor that was surprisingly plush. Ericson, our guide, was easygoing with a thick, scraggly beard. Standing in the middle of the raft, he clutched an oar the length of a small sedan in each hand. He was lean, in contrast to the stocky, less experienced guides who try to wrestle the waterway. "You learn to let the river do the work," he said.
Floating the Snake can be done on your own, but going with a guide allows you to relax.
Last August was my parents' first trip to Jackson Hole, and one of the first things I planned for us was a scenic float on the Snake River. Of all the sections on the Snake that commercial outfitters raft, I had heard the stretch between Deadman's Bar (so named for a triple homicide in 1886 in the area in which a gold miner killed his partners) to Moose was the stretch to do. Wanting to show the best of the valley to my parents, who live in western Washington, I made reservations for this section, and it didn't disappoint. (Although having since done the four other scenic sections, I can write that you can't go wrong with any; they all have their own amazing views and personalities.)
From a raft, carried along on the current, Jackson Hole unfolds before you in a way you miss on a drive or a hike. You absorb the valley at the water's pace, and—assuming you don't get stuck with an oar—absorbing is really all there is to do. Between Deadman's Bar and Moose, Ericson directed our eyes to numerous wildlife hot spots along the river's banks. He pointed out young, yellow aspen stands where moose often hang out, but that were devoid of the ungulates when we floated by. (Although he told us he saw one just a few hours before.) As we rounded a bend, Ericson pointed out an eagle's nest tucked in the top of a dead pine tree. From the nest came the cry of a hungry fledgling. More raptors soared overhead, and a young woman from New Jersey tried to identify each one before Ericson did. Friendly tip: You probably don't know more than the person who spends a third of their summer on the river.
From a raft, carried along on the current, Jackson Hole unfolds before you in a way you miss on a drive or a hike. You absorb the valley at the water's pace, and—assuming you don't get stuck with an oar—absorbing is really all there is to do.
Floating the Snake can be done on your own, but going with a guide allows you to relax. The scenic stretches don't get your adrenaline going like the whitewater of the Snake River Canyon, but that doesn't mean they're without danger. In late spring and early summer, when it is fueled by snowmelt, the Snake rages, and water levels can reach 25,000 cubic feet per second (cfs), but average around 13,000 cfs. By August, water levels significantly drop (usual is between 2,000 and 4,000 cfs). All summer long, the river's scenic sections split into a complex system of braided channels, some of which dead-end. If you pick the wrong channel, you could get caught in a logjam or strainer, a jumble of downed trees that can suck a raft under the water, potentially trapping passengers along with it. Now to figure out what section to float.
JACKSON LAKE DAM TO PACIFIC CREEK
This 4.5-mile float usually takes between sixty and ninety minutes. It is not possible to do with a guide.

This is the first stretch of the Snake River below Jackson Lake Dam in GTNP, and it has the distinction of being the most tranquil. From the launch, the river takes its time picking up speed over 5 miles of mellow floating. "It's almost like you're paddling in the lake," says Reed Finlay, who has guided the Snake since 1994 with Barker-Ewing Scenic Float Trips. Keep your eyes peeled for beavers (which may or may not be planning to commandeer the dam), pelicans, and the occasional river otter. The southern stretches of the Snake River are dominated by the Grand Teton, Teewinot, and Mount Owen, but here in the northern part of the park Mount Moran reigns, especially from Oxbow Bend. If you've browsed Google images of the park for three seconds or more, odds are you'll recognize this kink in the river, which Moran looms behind.
PACIFIC CREEK TO DEADMAN'S BAR
This 11-mile stretch in GTNP can be done with a guide or on your own. It usually takes between ninety minutes and three hours.
Stronger currents and tricky terrain are the norm on this stretch (and all stretches south of it). Channels may lead nowhere, or to a logjam or strainer. The river flows more swiftly here than immediately below Jackson Lake Dam, but there's no whitewater, and there's still plenty of time to take in the first impressive glimpses of the central Tetons—the Middle, South, and Grand Tetons, Teewinot, and Owen—which are known as the Cathedral Group. "It's a real dramatic view of them," Finlay says. "You just see how they swoop up into the air." More often than not, Reed says, people see elk or moose on this stretch, and there are a few eagle nests. Early morning and evening are your best bets for catching the critters.
WILSON TO SOUTH PARK
At 13 miles, this is the longest scenic stretch and usually takes between two and four hours. You can do it with or without a guide.
This is the first segment of the river that is entirely outside GTNP, and it shows. Levees on either bank cut the river off from its historic floodplain and channels. Ranches abut the river in places, so along with bugling elk you might hear mooing cows. This stretch doesn't have the in-your-face mountain vistas of the scenic sections in the park, but it has the largest convocation of bald eagles in Wyoming. I once counted twelve, and river guide Jim Stanford (who has been with Barker-Ewing since 1994 and also happens to sit on the Jackson Town Council—isn't Jackson great?) says he once tallied two dozen on a single float. In the spring, the Snake is at its widest here, swelling with runoff from the Gros Ventre River and Fish Creek. This stretch's length makes a great justification for a riverside picnic.
SOUTH PARK TO ASTORIA
Take ninety minutes or a half-day to do this 9-mile section on your own (because it is not commercially guided).
After the stretch between Jackson Lake Dam and Pacific Creek, this section of river is the Snake at its most beginner-friendly. The braided channels that are characteristic of upriver are gone; here the river flows in a single channel from start to end. There is one Class II rapid, King's Wave, but you can paddle around it. There are plenty of eagles to be seen on this section. Megafauna aren't nearly as common here as they are on the stretches in GTNP, but they're not totally absent. (You just have to have really good luck.) I was introduced to this section during a massive group float on the Fourth of July, and can confirm it's a great spot to tie some rafts and tubes together and drift serenely downstream with friends and family. Extra credit for coming ashore on a sandbar for a midriver shindig. JH
Nuts & Bolts
Guides offers multiple trips a day between May and early October. Mad River Boat Trips guides the section from Wilson to South Park; prices start at $72 for adults; 866/275-8077; mad-river.com. National Parks Float Trips, the Grand Teton Lodge Company, and Barker-Ewing Scenic Floats all do the Deadman's Bar to Moose section. National Parks Float Trips: from $62, 307/733-5500, nationalparkfloattrips.com. Grand Teton Lodge Company: from $78, 307/543-3100, gtlc.com/activities/rafting-the-snake-river.Barker-Ewing: from $80, 307/733-1800, barkerewing.com.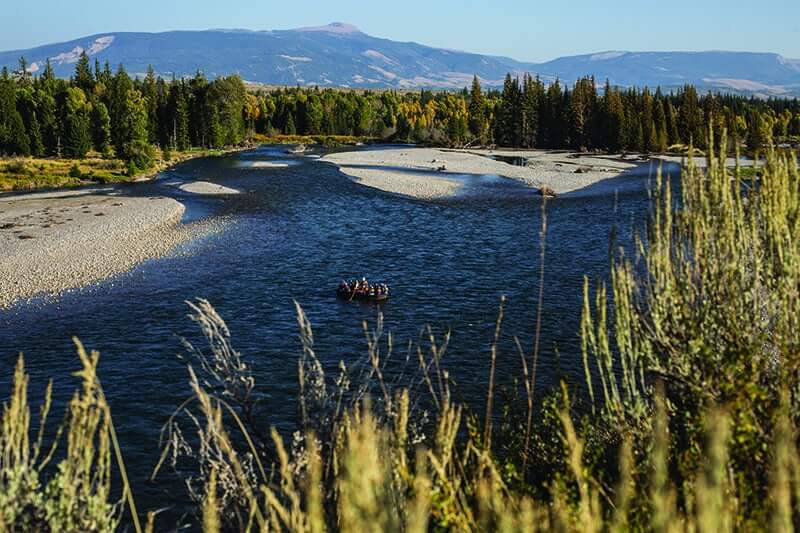 A guided scenic raft floats between Deadman's Bar and Moose in Grand Teton National Park. Photo by Ryan Dorgan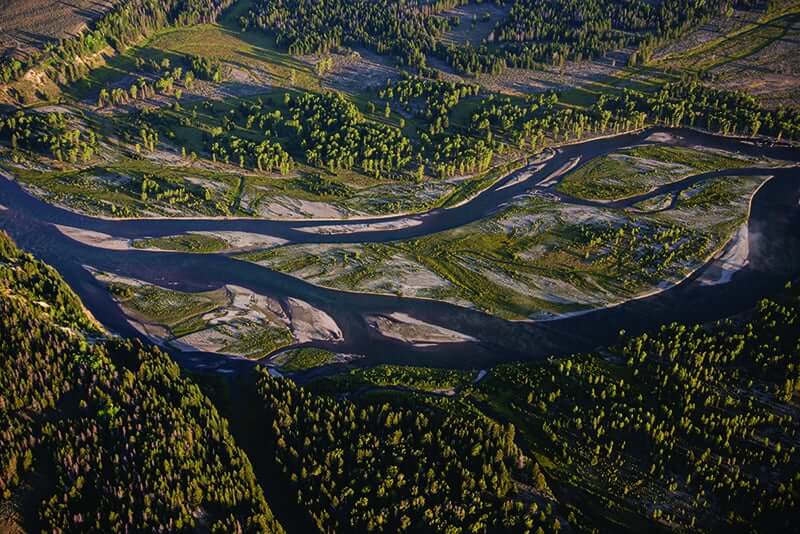 Braids of the Snake River wind through Grand Teton National Park between Pacific Creek and Deadman's Bar. Photo Bradly J. Boner
A guided raft navigates the Snake River between Wilson and South Park. Photo by Ryan Dorgan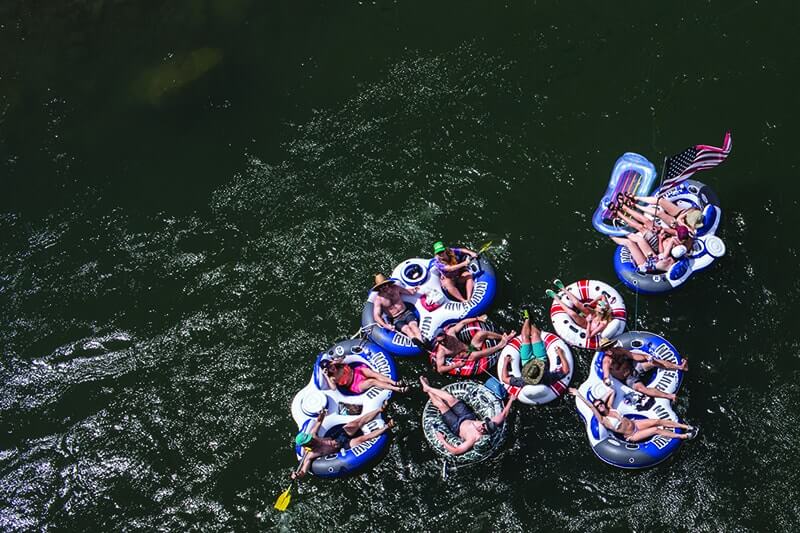 South Park to Astoria is a popular stretch for Fourth of July floaters. Photo by Ryan Dorgan