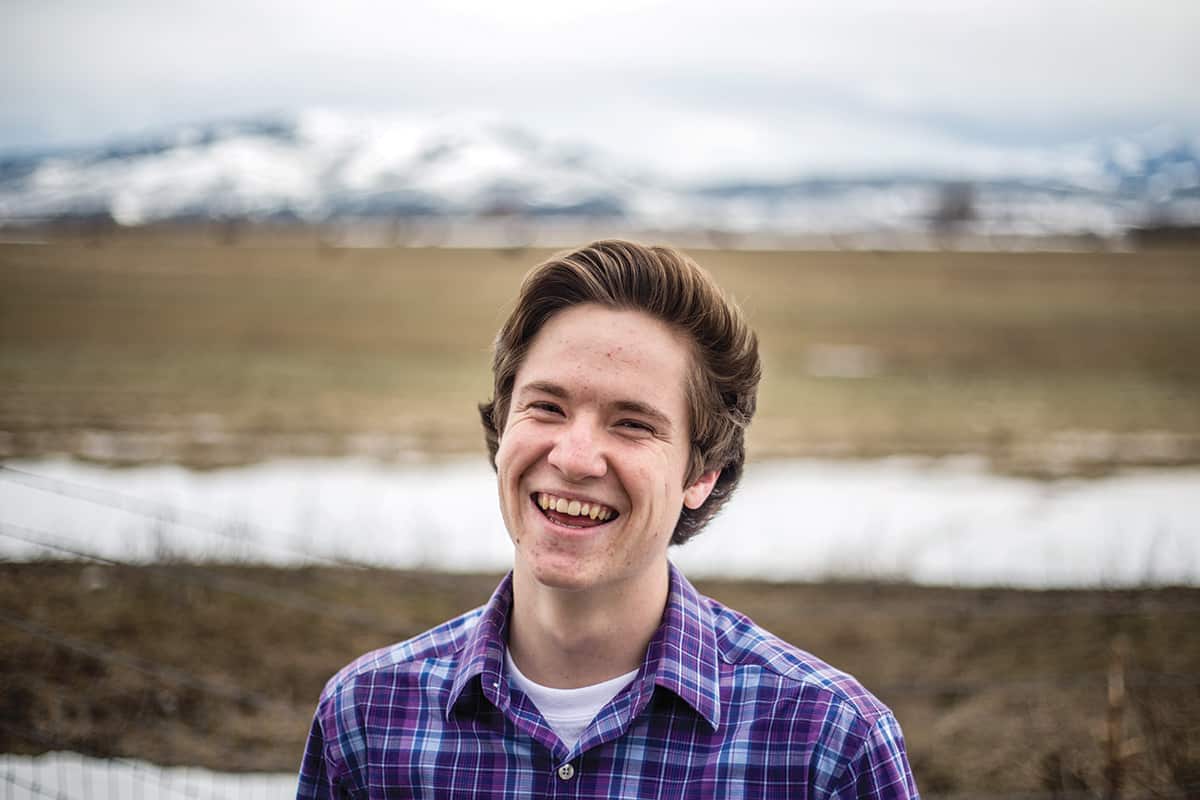 Seth Palmquist
Interview by Lila Edythe
Photograph by Ryan Dorgan
At age eleven, Seth Palmquist found himself on another planet. "Turkey is where I was raised and what I considered my home," he says. But, in 2009, when Seth was eleven, his parents' new business—a Native American-themed coffee shop—was destroyed by the Turkish government, and the family decided to return to the U.S. for a year. They got a job managing Turpin Meadow Ranch, a guest ranch in Buffalo Valley in the northern-most part of Jackson Hole. "I went from living in an apartment in Istanbul to Moran Elementary with a graduating class of four kids," Seth says. "We moved literally to the middle of nowhere. I was terrified." The family's year in the U.S. has been extended indefinitely, and Seth recently graduated from Jackson Hole High School. Now nineteen, Seth long ago found his Jackson groove. He plays hockey, performs in musicals, runs cross-country, and was on the debate team. In his junior year, he was elected Prom King. And, of course, he has learned how to ski.
Q: Do you remember your first impressions of Jackson Hole?
A: It was the quietest thing I'd ever heard. I thought it was all crazy.
Q: When did it stop being crazy?
A: Life is always crazy, but after a month here, like any other person who comes to Jackson, I started falling in love.
Q: How was it making friends?
A: Those four kids from Moran Elementary were my first friends. I joined hockey in the fifth grade and became friends with those guys, too. It was the hockey kids that helped me learn how to ski.
Q: Describe your friends today.
A: I'm friends with a lot of rednecks, Latinos, and rich kids. I kind of float. I've got a lot of friends in theater. Growing up in Turkey, I watched movies of theater kids being uncool. But here, the theater kids are the cool kids. And they're not cocky.
Q: Did you ski before you moved here?
A: We went skiing two times in Bulgaria. My dad wanted to teach us to ski because he grew up skiing. Here, my friends took me down these little tree paths and launched me off cliffs. I picked it up pretty quick trying to keep up with my friends.
Q: Have you been back to Turkey since you were eleven?
A: Stupid me, when my mom and three older sisters went back when I was in eighth grade, I was getting into Jackson and didn't want to miss Gaper Day. I didn't go to Turkey with them so I could stay here for that.
Q: What's Gaper Day?
A: People dress up in costumes, ski on old gear, and just have a really good time at the [Jackson Hole Mountain] resort.
Q: Was it worth it?
A: I wish I had gone to Turkey. I haven't had the chance to go back since.
Q: What are you doing next year?
A: If you had asked three months ago, I would have said I'd be taking a gap year. I have dyslexia, and that and the ACT didn't really work out. I got a pretty, pretty bad score. But then I was able to take the SAT and that bumped me up a lot. I got a scholarship to the University of Wyoming. Everything kind of worked out, even though I was stressing out. I'm still going to [take a] gap year, but it will probably be before my final year of college instead of next year.
Q: What do you feel has been one of the biggest lessons you've learned so far in life?
A: This community and life have taught me that you're going to want to plan and try for something, but life happens, and that can be good. We planned for coffee, but ended up with cowboys.