Thrive, Don't Just Survive
A head-to-toe guide to taking care of yourself during the valley's long winter
By dina mishev
Illustration by Anastasia Ponomareva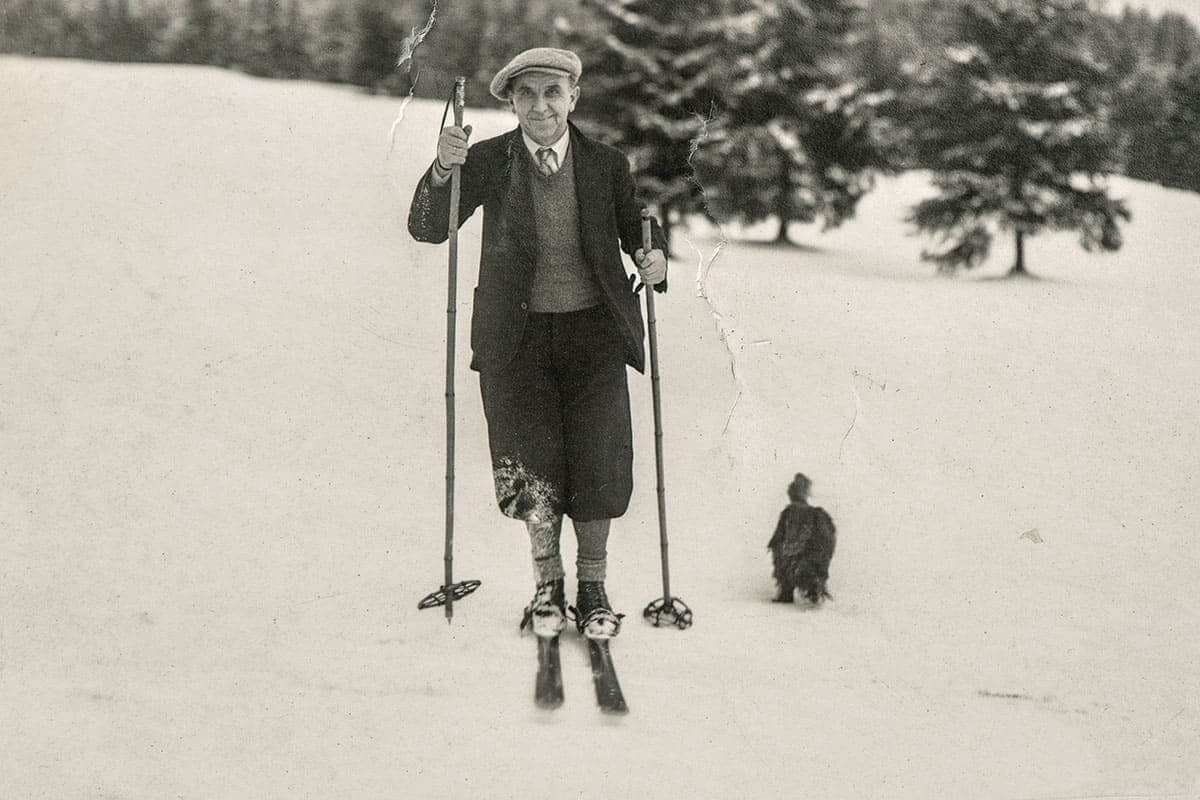 WINTER IN JACKSON Hole is not for the faint of heart. Jackson Hole Mountain Resort reports an annual snowfall of 400 inches. That's more than thirty-three feet. Every winter, a cold snap settles into the valley, during which temperatures don't get above zero. Some winters, this lasts for a couple of days. In really bad winters, it can last a couple of weeks. Historian Phil Roberts from the University of Wyoming says Wyoming's record-low temperature—66 below—was recorded in Moran on Feb. 9, 1933. "I heard the temperature was actually colder," Roberts says, "but the thermometers didn't have the capacity to register a lower reading!" We couldn't find official temperature records for New Year's weekend 1979, but plenty of longtime Wyomingites have anecdotal stories about how brutally cold it was then as well. Jody Coleman, of Riverton, was in Jackson Hole that weekend for a ski trip. "The power was off, and we woke up at the Antler Motel with the walls inside covered with frost," she told SheridanMedia.com. "We went outside and started our pickup every hour. The next day, we spent the day jump-starting other people's cars."
Winters here are so long and harsh the valley wasn't permanently occupied until the 1880s. There is archaeological evidence that several tribes of Native Americans lived in the area in the summer, but they were smart enough to clear out when snow began to fall.
While the season hasn't gotten any easier, today there are products to use and things we know to do that not only help us survive winter in Jackson Hole, but enjoy it. The following pages show you how to make the most of it.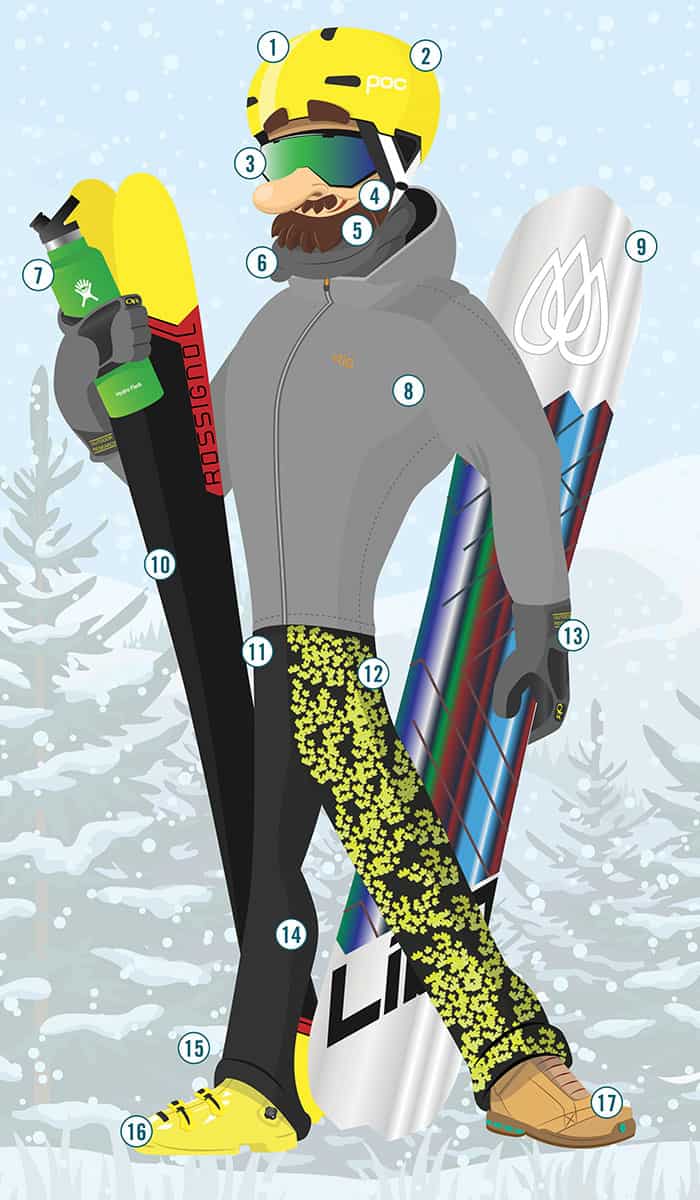 1. General
Acute Mountain Sickness can afflict anyone visiting elevations higher than 6,000 feet. The most common first sign of AMS is a headache. This is usually followed by symptoms such as loss of appetite, sometimes vomiting, weakness, dizziness, fatigue, and difficulty sleeping. AMS can occur as early as two hours after arrival, or be delayed for 24 hours. Decrease the chance of getting AMS by resting your first day here, staying hydrated, and avoiding alcohol.
2. Helmet
The National Ski Areas Association reports that head injuries are the leading cause of deaths in skiing and snowboarding, with about thirty annually in the United States. POC is on the cutting-edge of cranium care. Its Fornix model uses MIPS (Multidirectional Impact Protection System) technology to reduce brain injuries. In addition, the Fornix comes in over a dozen colors, so you can be as colorful (or not) as you want. $200; available at Jackson Hole Sports and Four Seasons Resort Jackson Hole
3. Goggles
UV rays reflected into your eyes by bright snow can cause snow blindness, which, in extreme cases, can cause actual blindness. More usual symptoms include bloodshot eyes, increased tearing or watering of the eyes, eyelid twitching, and eye pain. Protect your eyes with Smith's redesigned I/O Goggle and improved ChromaPop lenses. Expect a wider field of view from the former, and greater definition and more natural color in any weather condition from the latter. From $180; available at Hoback Sports and Teton Village Sports
4.Sunburnt Cheeks
While it can take twenty-five minutes to sunburn at sea level, you can get sunburnt in as little as nine minutes here, where we're at nearly 7,000 feet. Jackson-based Trilipiderm's All-Body Moisture Retention Crème is SPF 30. Make sure to reapply every two hours. From $10; available at retailers around the valley
5. Lips
Prevent chapped lips and skin cancer, which can grow on lips, by using a lip balm with at least SPF 30.
6. Neck Gaiter
Neck gaiters aren't always necessary, but on those subzero days, they can be your favorite accessory. Because it's spun from a mix of lightweight wool and elastane, Arc'teryx's Rho LTW Neck Gaiter holds its shape, even after it's been pulled up to protect your chin and nose all day. $39; available at JH Sports and Teton Mountaineering
7. Hydroflask
According to the Wilderness Medical Society, at high altitudes you lose water through respiration twice as quickly as you do at sea level. At Jackson's 6,400-foot altitude—and that's just the base area—simply breathing can dehydrate you. Even mild dehydration leads to a decrease in energy and a feeling of lethargy. The National Academy of Medicine advises that adults drink about 4 liters a day. You'll know you're hydrated when your urine is clear. From $22; available at retailers around the valley
8. Jacket
Whatever your feet are strapped to, Stio's Shot 7 Insulated Jacket (available in men's and women's) will keep you warm and dry. It combines 800-fill HyperDRY water-repellent down with a waterproof/breathable outer layer, pit zips, a removable powder skirt, and helmet-compatible hood. It's like it was designed for Jackson Hole. (Maybe it was; Stio is based here.) $550; available at Stio Mountain Studio
9. Snowboard
You might not be able to ride and fly like Jackson native Travis Rice—who, according to Red Bull, was the best contemporary snowboarder in the world in 2013—but you can ride this board he created with Lib Tech. Rice designed the Gold Member to handle any of the valley's gnarliest lines. $750; available at JH Sports
10. Skis
When you need one ski to rule them all, choose Rossignol's new Soul 7 HD. It's as versatile, playful, and maneuverable as the much-loved Soul 7 (which it's the replacement for). But Rossignol added torsional stiffness and stability to make these skis as fun for fast, aggressive skiers as for the rest of us. At 106mm underfoot, and with significant rocker at the top, it does pretty well in powder, too. $850; available at JH Sports
11. Tights
Change your base layer to Opedix KNEE-Tec Tights and you could become a better skier or rider. The tights are scientifically designed and tested to reduce destructive knee forces, quadriceps fatigue, and knee pain, all while improving dynamic balance. From $225; available at Medicine Wheel Wellness
12. Snowboard Pants
Burton [ak]'s stretch GORE-TEX 2L Summit Pant is as waterproof as pants come, and has inner-thigh vents to make sure you don't overheat. $380; available at JH Sports
13. Gloves
Outdoor Research's Lodestar Sensor Gloves are touchscreen-compatible, have wonderful articulation, and are highly breathable. Polartec Power Shield High Loft fabric and a microfleece lining ensure they are also warm. $99; available at Teton Mountaineering
14. Ski Pants
This winter is a La Nina year, so you'll want ski pants that can stand up to the harshest storm. Arc'teryx's Theta SV Bib's elastic waist and N80P-X GORE-TEX keep warmth in and snow and drafts out. $549; available at Teton Mountaineering and JH Sports
15. Socks
Feet can't help but be happy in CEP's Ski Merino Compression Socks, which are made from a combination of merino wool and water-repellent synthetic fibers, are antibacterial, and have a consistent 18mmHg of compression over the calf. $60; available at Teton Mountain Outfitters, Grand Targhee
16. Ski Boots
Nothing kills a winter day faster than painful ski boots. Fischer's Vacuum line of boots doesn't just have moldable liners, but also moldable shells. From $900; available at JH Sports
17. Snowboard Boots
Performance meets comfort in Burton's Ritual snowboard boot. Ritual's (the closest men's model is the Imperial) Speed Zone lacing system ensures easy entry and exit, and fit customization. "Sleeping bag" science in the inner liner recirculates body heat back to your feet for added warmth. From $299; available at JH Sports