We Are Jackson Hole
Individuals make this valley the inspiring, engaged, dedicated, interesting, and intelligent community it is. Meet some of us.
story By Dina Mishev
Photography by cole buckhart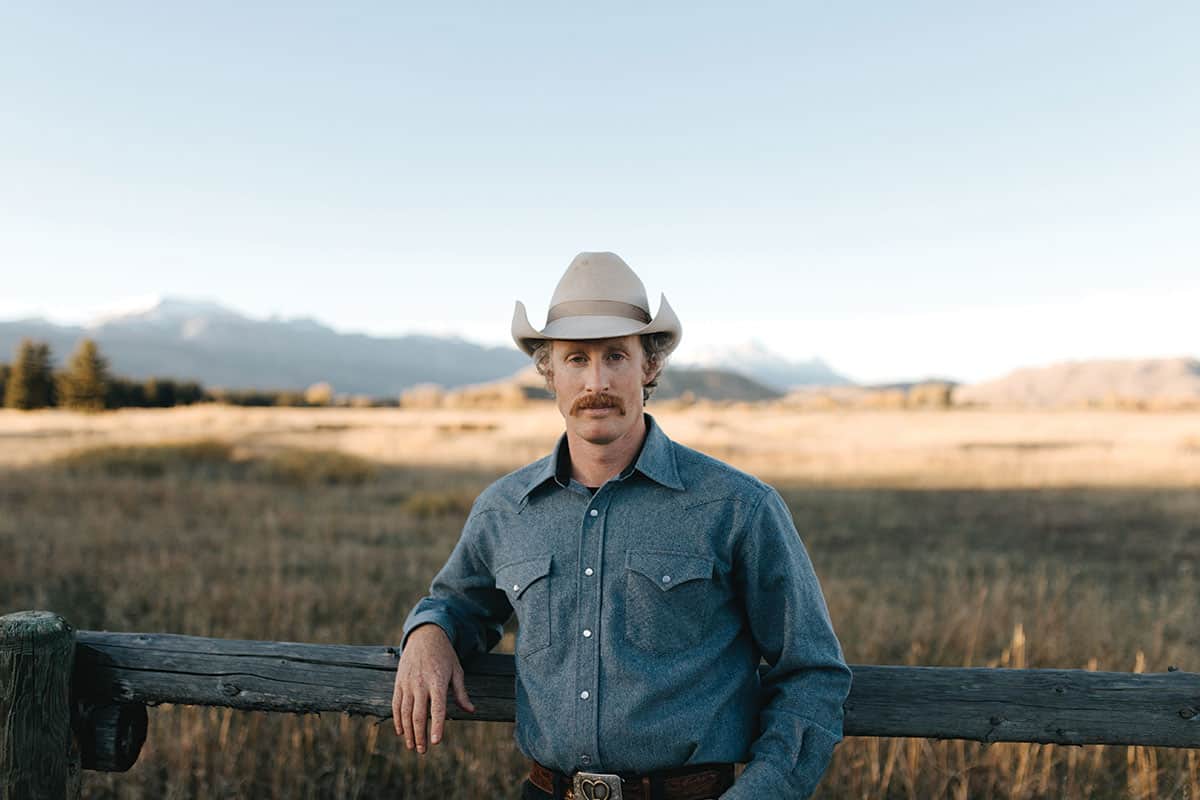 The Skiing Cowboy : Cody Lockhart
"I think that everybody who grows up here is a skier," Cody Lockhart says. But not everyone who grows up here does so cross-country skiing around a cattle ranch founded by their great-great-grandparents like Cody and his younger brother, Chase. But skiing on the family ranch wasn't as cool to Cody as the other things he could do there, like drive a tractor.
Once Cody and Chase were old enough to drive a tractor, "which is younger than you'd think," Cody says with a laugh, "we were able to cowboy at our summer range in Grand Teton [National Park]." Summer cowboying entailed "doctoring the cows, dealing with cow issues, fighting grizzly bears and wolves, and looking for lost cows," he says. "We grew up at ranch headquarters, so I was always able to be involved with what was going on on the ranch. The ranch was our life, and it continues to be."
Today, at age thirty-four, Cody, whose full-time job is as a financial planner at Wells Fargo Advisors, says, "I ride a desk more than I ride a horse." But he's still involved with the ranch, Lockhart Cattle Company, and he still skis. Cody, wife Shauna (also a skier), and toddler Amelia "putz around the ranch" whenever they can, and, while Chase "does most of the heavy lifting [at the ranch], I'm lucky to get to help him out when and how I can," Cody says. With a degree in business finance from Boston University, "I handle a lot of the desk part of the ranch business."
The week before I interviewed him, Cody skied Mount Rainier in Washington. His most memorable day of skiing last winter was closer to home, though, on Snow King: "I skinned up before the lifts opened and skied blower powder down. My ten-month-old daughter, Amelia, was on my back." The plan is for her to be as comfortable around cows as on skis. "At age eight, you're allowed to enter 4-H and raise your own animals," Cody says. "And she'll be skiing way before that."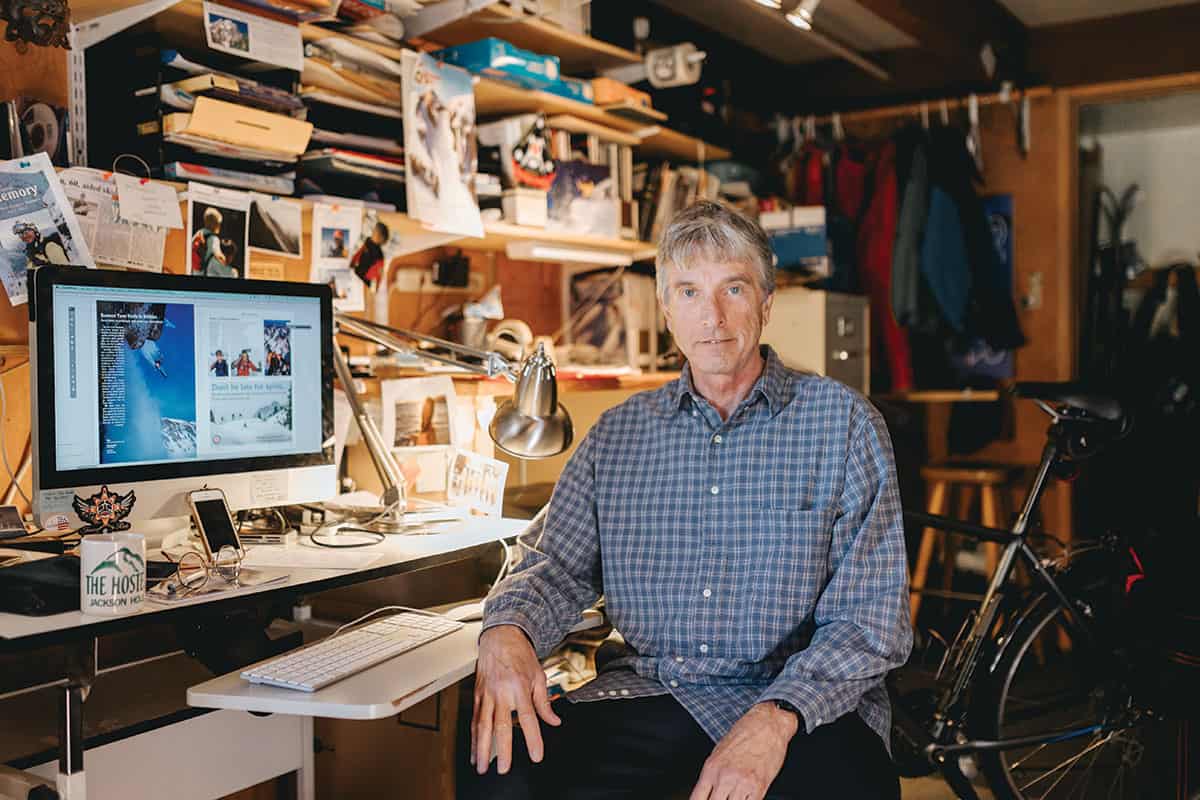 The Ski Bum, Grown Up : Wade McKoy
When Wade McKoy arrived in Jackson in the fall of 1974, freshly graduated from Mississippi State, he and a former frat buddy "crashed on the floor of a trailer of these two girls I knew from high school," he says. McKoy had only ever skied once (his frat friend was a lifelong skier and was the one to suggest spending a winter in Jackson), and he had made it his goal to learn how. He thought this would take one year. Skiing mastered, McKoy would then return to Mississippi, where his family lived, and get on with his life.
McKoy got a job at the ski area as a chairlift operator, working one day a week on Thunder, one day on Casper, and one day on Apres Vous. While he had plenty of time to ski, still, "I was blown away by how hard it was," he says. "The first three weeks that winter were on hardpack, and I was doing great—sliding through turns and having a ball. Then it started snowing, and I had the struggle of my life trying to ski powder. Halfway through the winter I wrote my parents a letter and told them that for me to learn how to do this, it wasn't going to happen in one winter. I thought it would take one more winter."
And then McKoy experienced his first summer in Jackson. "One month into my first summer here, I took a hike and the wildflowers were so huge," he says. "It was summer that married me to this place. [Jackson] fits me like a glove. It's been a struggle sometimes, but it did all work out."
After one season of being a liftie, McKoy went on to work on the resort's winter trail crew. He did this for ten years. "It was a great job for a ski bum," he says. "We got to do a lot of freeskiing." It was during his time on trail crew that McKoy began to turn skiing into a bigger career—as a ski photographer and writer. First, he shot images of his trail crew buddies and later of the Jackson Hole Air Force, an informal group of hard-charging local skiers. Powder and Skiing magazines published his images and articles. Soon, McKoy was traveling the world to shoot and write about expeditions. "For about ten years I was writing and shooting these adventure stories in big mountains around the world—China, India, Africa, Europe, Antarctica, Alaska." Back in Jackson Hole he, along with Bob Woodall, founded Focus Productions, which annually publishes Jackson Hole Skier, Jackson Hole Dining Guide, and Adventure Guide magazines. (This winter is the thirty-fifth edition of Jackson Hole Skier.) McKoy and his wife, Holly McKoy (nee Riedman), currently the office manager for the Jackson Hole Land Trust, celebrate their thirty-first anniversary in 2018.
McKoy has had two skiing accidents in which he almost died. Most recently, two winters ago he ruptured his vena cava. McKoy says, "My mind is still hungry like a twenty- or maybe a thirty-year-old, but the body is sixty-six. Although I think it feels even older." He has two artificial knees, back problems, and a "shoulder that's about to explode." "I can't ski every day anymore," McKoy says. "It's probably four days a week. Maybe five. And on the days I do ski, I can only do three trams rather than seven or ten." Still, "I've never thought of leaving," he says. "The tram, the vertical drop, the steepness, the variety, the wildness—from the weather to actual wildlife—and also the community. I got tied in with a great group of people that I know to this day. It's a special place. I just need to learn not to run too hot, but it's hard. Living here is running hot. There are so many people here that run hot all the time."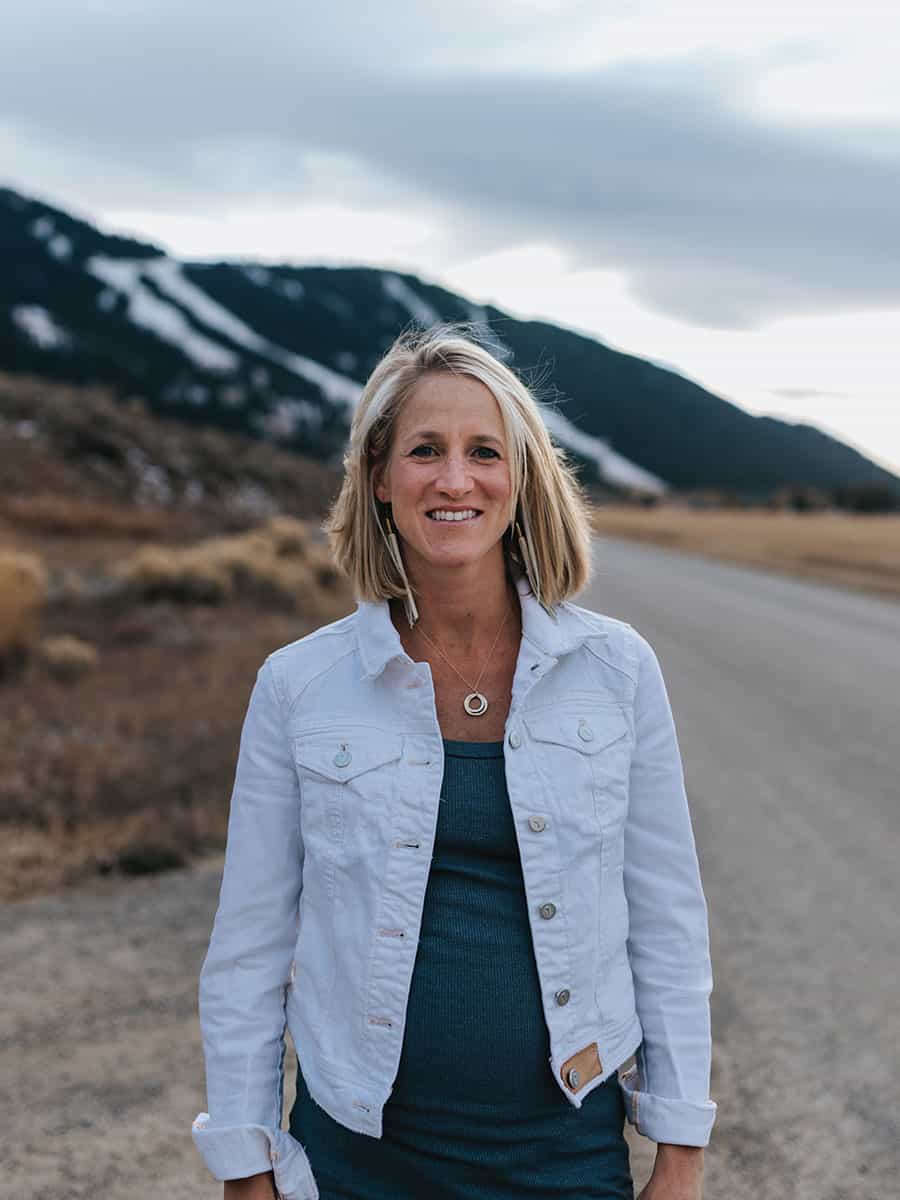 The Amateur Ultra-Athlete : Katie Steinberg
At Jackson Hole Middle School, she's "Mrs. Steinberg" to the 130 students in her life sciences classes and "Coach Steinberg" to the cross-country team. Out on the trails around town or, in winter, skinning up Snow King, Katie Steinberg, thirty-two, is one runner in a town full of athletes; albeit, she's often out running when most others are sleeping. (She does have a classroom to get to at 8 a.m., after all.) In the spring and summer, lining up at the starting line of an ultramarathon, Steinberg is often the runner to beat, even if winning is not her goal. "My ultimate goal isn't winning—although, of course, that is nice—but is to run happy. [Running] is not my livelihood. It is my passion," she says.
Running—Steinberg started in middle school, going out for several miles before classes with her dad—turned into racing for her only three years ago. "I had a group of friends that wanted to see what we could do," says Steinberg, who hadn't yet run a marathon when she signed up for a 50K in Tahoe in 2013. "I thought that [it] seemed a lofty goal, but we followed a plan together and [at the starting line] I crossed my fingers. And then I won that race." The next year she won the Bighorn Trail 50K, which draws ultrarunners from across the West. She won the Bighorn again in 2015, and also won The North Face Endurance Challenge Utah (fifty-miler) in Park City.
An injury—an avulsion fracture, several torn ligaments, cartilage damage, and microtearing to her Achilles tendon that required she wear a boot—then sidelined her for five months, but Steinberg never thought about not returning to running. To keep in shape she put flat pedals on her mountain bike and went riding. "My first ride I cried out of happiness," she says. "I was in the outdoors, and I could get somewhere remote and sweat and feel my heart beat." When she was able to run again, Steinberg says she "didn't feel like I had to win anymore. I was just enjoying being able to run again and appreciating what my body can do and the feeling of being strong pushing myself."
Since Steinberg pushes herself harder than any outside competitor can, she usually does two training sessions a day that range from running to yoga (she's a certified yoga instructor and teaches fitness classes once a week at Pursue) to strength training. She sometimes runs and skis with friends before and after school. "I've had a few people tell me, 'If it's not above zero, I'm not going,' " she says. On those days, Steinberg goes solo. Why? "I'm a much better teacher when I show up after a Putt Putt run or a Snow King ski," Steinberg says. "I'm energized, awake, alert, and attentive and ready to have 30 thirteen-year-olds in my classroom. I love running, but where I feel like I'm making a difference is making a connection with kids in the classroom, and I couldn't do my job without training the way I do. When my job is hard, I train harder."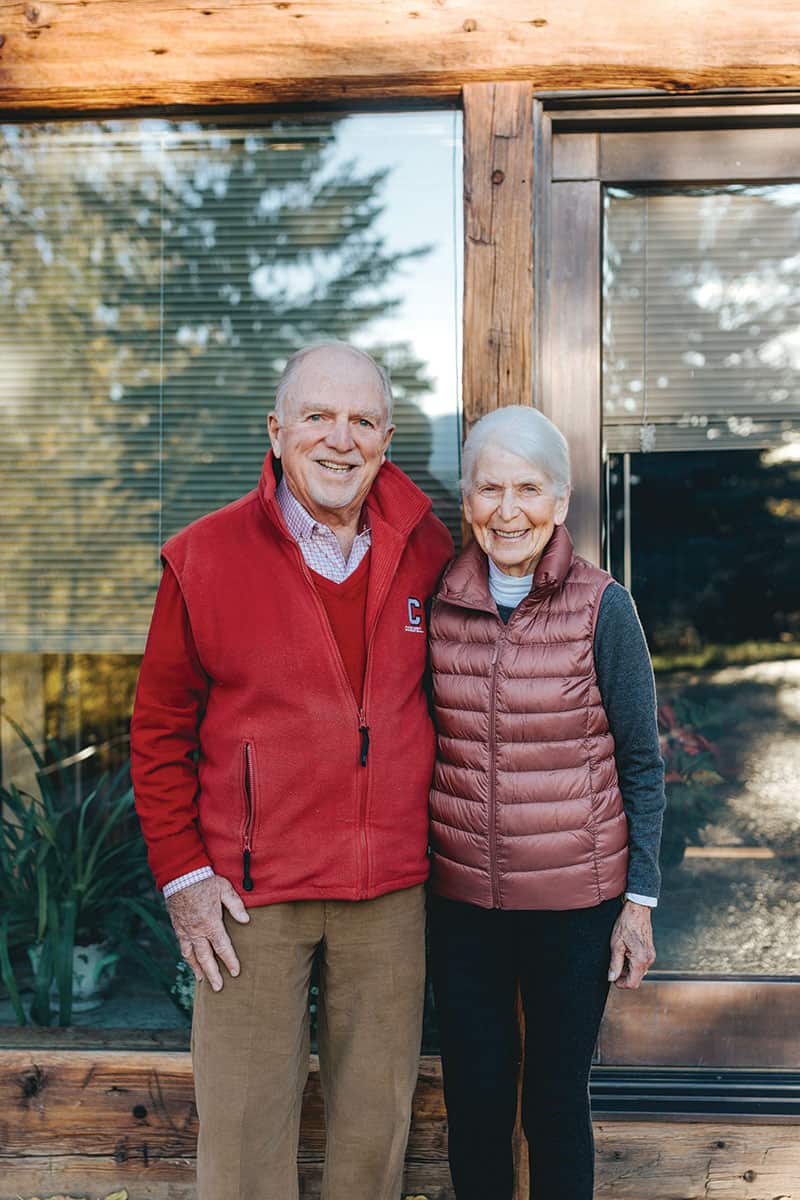 The Philanthropists : Frances & Allan Tessler
"We had always been involved in different not-for-profits and charities wherever we were," says Allan Tessler. "It was natural for us to find out what we could do when we got here." Allan, who served in the Navy and received his LL.B. from Cornell University, and his wife, Frances, who worked as a computer consultant for IBM and then as a financial consultant at what is now Morgan Stanley Wealth Management for twenty years, moved to Jackson Hole from New York in 1988.
Frances grew up spending summers horseback riding at a valley dude ranch, and after she and Allan married (in 1958) and had kids, they returned to Jackson Hole as a family for ski vacations. "We always had a great time and looked for places to buy [as a vacation home], but we were always out of sync with the market. Whenever we wanted to do it, we couldn't afford it," Allan says. Until finally, back home in New York, "Our car was broken into for the fourth time in a year," Frances says. "We said, 'Enough. We're out of here.' " And that was that.
Allan's first foray into philanthropy in the valley was a donation to the Teton County Search and Rescue team. "When I found out they didn't have any radios, I offered to fund the acquisition. In New York, our donations seemed to get lost sometimes in the vastness of organizations. Here, those radios were a game changer." From funding radios the Tesslers went on to donate to organizations as diverse as the Grand Teton Music Festival, the Jackson Hole Land Trust, Climb Wyoming, Astoria Hot Springs, the Community Foundation of Jackson Hole, and the Jackson Hole Community Housing Trust.
But, "Just giving money isn't what's needed," Frances says. "You need to give time and energy." Frances joined the Housing Trust board in the late 1990s, and, after retiring in 2000, also joined the boards of the Community Foundation of Jackson Hole and the Center of Wonder. Including his present term that started this past September, Allan has twice been the chair of the board of the Grand Teton Music Festival. Besides serving on the boards of the Land Trust and of several national not-for-profits, Allan has also served on the boards of numerous publicly traded companies.
The Tesslers say that board work here differs from that of big cities. Allan says, "Here you get involved, and if people don't like what you're doing, they call you up. It is much more demanding personally, and much more rewarding personally."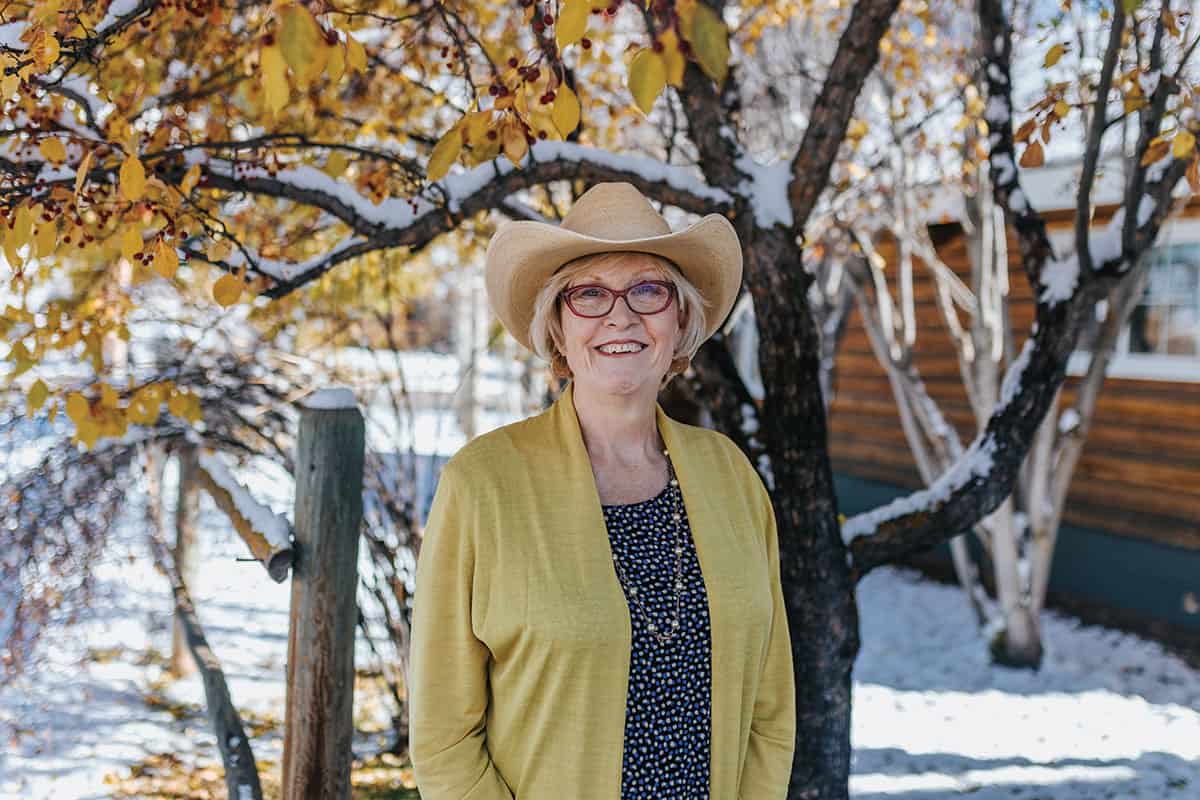 The Conservationist : Dr. Susan Clark
"This place has special meaning," says Dr. Susan G. Clark, who grew up on a small farm in eastern Oklahoma and first began doing conservation work in the valley in 1968. "The people of the U.S. created this place of public good 140 years ago. It is very important to me personally to be near a place like this. It is an emotional touchstone."
Dr. Clark, who has been the Joseph F. Cullman 3rd Adjunct Professor of Wildlife Ecology and Policy Sciences at Yale's School of Forestry & Environmental Studies for at least eleven years, says that at this point in her life, "I'm not out building nest boxes for birds, but working to integrate the work of the gazillions of people here doing good stuff. There is good work being done here, but a lot of it is fragmented and piecemeal. One of my goals is to encourage more fundamental thought about places like the Greater Yellowstone [Ecosystem] and nature. I want to help find a genuine coexistence with the region's remarkable wildlife. Yellowstone is not just a place to visit, it is a place of work."
Dr. Clark describes her conservation view as "hopeful pragmatism." "It is not about being optimistic or pessimistic," she says. "Pragmatic hope is recognizing the challenges we face and working to make it better."
To facilitate this, Dr. Clark founded, with Denise Casey, the Northern Rockies Conservation Cooperative in 1988. Since its founding, the Jackson-based nonprofit has supported hundreds of projects in the region and further afield (the group helped with fifty-seven projects in the last five years alone). While much of Dr. Clark's field and academic research—she was an author or editor on about fifteen books and has written more than 400 articles in scientific journals—has focused on the Greater Yellowstone Ecosystem, she has investigated more than thirty mammal species in numerous states and fourteen foreign countries. Even with her world travels, Dr. Clark chooses to spend her summers in Jackson Hole.
In 1974-75, she and her husband built their own home in East Jackson overlooking the elk refuge. And that's still where they live today. "In the early seventies, there were no other houses out here," she says. "It was a virtual pasture. We built everything in our own time and with our own labor. Land was less expensive. You didn't need much money to live here then. Not like now." Another change Dr. Clark has seen is that "for most people who came here [back then], recreating was not their fundamental mission in life," she says. "They were here because they had a fundamental connection to this place. Today people come to recreate or escape some other place."
Dr. Clark has no problem with recreation but sees that people are increasingly disconnected from nature, and she thinks that this disconnect is one of the greatest challenges to conservation today. She challenges recreationalists to look at and think of nature as more than an object. "The young bikers and skiers show up here to experience their physicality, and that is a good place to start," Dr. Clark says. "But one of my goals is to stimulate a deeper self-awareness of what it means to live in and take a deeper responsibility for a place like this."
Most of the classes Dr. Clark teaches at Yale, all of which are multidisciplinary and strive to do no less than consider the meaning of life, she describes as "transformative education." Transformative education is about "helping people discover things for themselves [that] they wouldn't discover elsewhere," she says. "The more we can be reflective and open up opportunities for pragmatic hope, the better."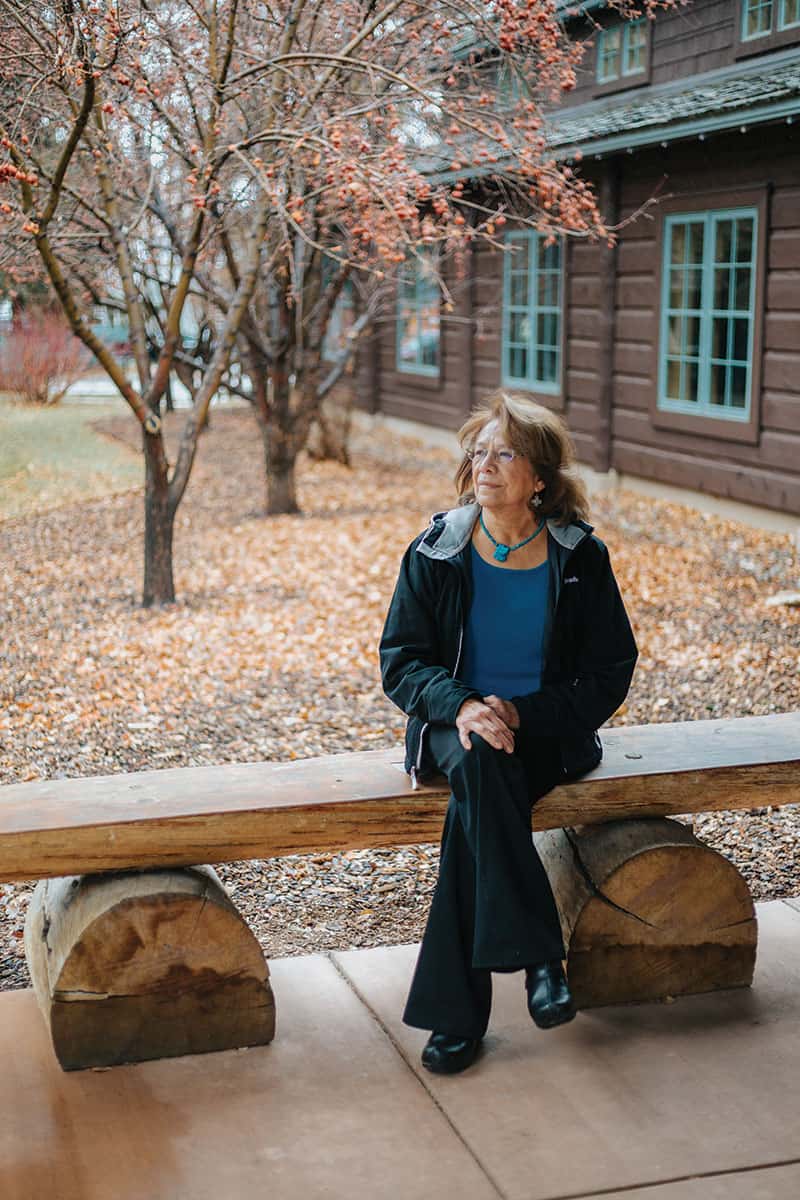 The Advocate : Carmina Oaks
Carmina and John Oaks first visited Jackson together one summer in the early 1990s. They pulled in with their trailer, parked, and shortly after were offered jobs. "Someone nearby heard us speaking in Spanish and English, and, before we knew it, he offered us jobs," Carmina Oaks says. The couple were living and working in Deming, New Mexico, but, "It was a really depressed area at the time," she says. "So we were kind of already looking for somewhere else." But the pair—Carmina is from Mexico City and had worked there as a kindergarten teacher and studied anthropology, while John hailed from Alabama—weren't excited about Jackson's winters. They left at the end of the summer, but returned to the valley several summers later. Before the autumn, Carmina was offered a full-time job with the Town of Jackson as a victim witness advocate. The two became year-round residents.
At the time, there weren't any other people in the valley working as Spanish-English translators. Oaks' job with the town went well beyond doing translation work—"I had a beeper and had to be available twenty-four hours a day," she says. While her full-time job was as a victim witness advocate, she had a second, unofficial job: "Latinos heard I could translate and help them navigate different things, like enrolling their kids in school," she says. "They followed me to my house." Oaks would tell them that she didn't do this kind of assistance as part of her job, but "I'd still find out answers to their questions. It was so different than today. Then there were no resources for the Latino community."
To be fair, the Latino community at the time was a fraction of what it is today. (It is estimated that 30 percent of the valley's current population is Latino.) Oaks was among the first Latino women to move to Jackson Hole. "The love I have for this place and its people, it's special," she says.
As the number of Latinos grew, so too did the need to help integrate them into the community. In 2001, Oaks left her job with the town to be the executive director of the nonprofit Latino Resource Center, the valley's first organization advocating for Latinos. Oaks held this position until she retired in 2009, at age sixty-five. Since she "retired" she has been a client advocate with One22 and is a consultant with the local firm Eriksen-Meier. "I couldn't not work," Oaks says. "I love what I do. It is helping people, and that's something I learned was important from my parents." Eighteen of Oaks' family members have followed her to Jackson from Mexico. "Eight of them have already become citizens," she says. "So kudos for this community." Carmina and John, who have two adult kids living in the San Francisco area, celebrated their forty-sixth wedding anniversary last July.